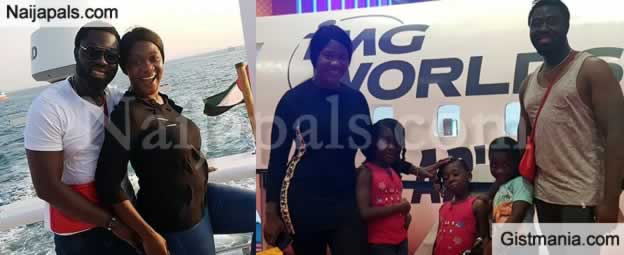 The Mercy Johnson Okojie and Prince Odi Okojie's marriage has officially lasted more than many anticipated and this could now be the the model for celebrity marriages since its always a miracle for many celebrity marriage to last over 2 years. A big example of how not engage in a celebrity marriage is the marriage of her arch nemesis in Nollywood, Tonto Dikeh, who had one of the worst marriages in the history of celebrity marriages, only God knows how they both made it out alive, Tonto Dikeh showed us an example of how NOT to have a celebrity marriage. For now many congratulations to the beautiful Okojie couple for making it this far, after 8 years and 3 children and they are still in love!.






Quote

"We may have gone through some storms, and passed through some turbulences together, Yet we stayed together, waxing stronger than ever.
Thank you for making ME and the KIDS your top most Priority.
Happy 8th Wedding Anniversary to us.



and here is what Mercy Johnson has to say:




Quote

@princeodiokojie , How do I tell you about the pain I go through when you are upset with me or when you are not around me?
It all makes no sense once you are not a part of it..... Your fragrance fills my every breath plus I cant live without you and there is no doubt about it.... You give me solace and you upset me sometimes but you are mine for sure....no doubt.. ..I have no reason to live without you and that's a choice...my choice....I love you and hey " even if you get upset,always tap me the way you do when no one is watching I like it....."
Happy 8yrs Annniversary Babe...Love you with everything i am.... You compliment me so well....Obulu Abba....Oseme ....Omi ojie.... Please Lord, its 8yrs...make many more years come to pass...Eternity would be perfect.....




---