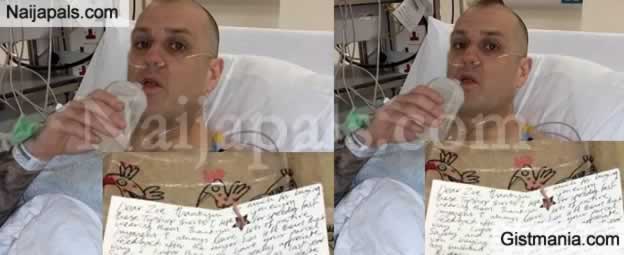 A man was moved to donate his kidney to a total stranger after he received a heartbreaking note in an eBay parcel.
Ray Duffy, 53, had surgery two years ago at the Royal Infirmary of Edinburgh to become a living kidney donor.
The idea to become a donor first came to him in 2013, when his partner bought a top on eBay. Accompanying the top was a note explaining the heartbreaking predicament faced by the seller's family. .
The woman who posted the package had wrapped it in paper illustrated with hand-drawn cartoons, and a note explaining how her husband needed a kidney transplant and had lost his job so the family would sell things online to generate cash. .
Ray was moved by the note so he kept it though he had no idea how he could help.
Two years later he was stuck in traffic and heard a radio programme discussing living kidney donors, and was inspired to go under the knife to save the life of someone he has never met.
The father-of-two said:

Quote

"Back in 2013, my partner bought a top on eBay and it arrived wrapped up in brown wrapping paper which the sender had hand-drawn cartoons of animals all over.
"She had also written a thank you note explaining that her husband was on the transplant waiting list, had lost his job and that now and then they would sell things they didn't need on eBay so they could buy their kids a treat. "She said that she drew the pictures to put a smile on people's faces as they had helped her put a smile on her children's faces. "I'll never forget it. 'It was just a really nice gesture from a complete stranger and I couldn't help feeling a bit queasy – here we are in the 21st century and there are families struggling while waiting for transplants. I felt so helpless."