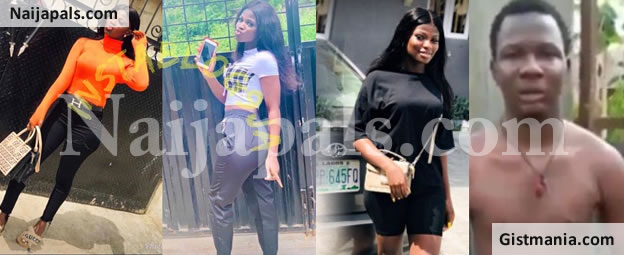 Eighteen-year-old Internet fraudster, Victor Orji, who allegedly killed his girlfriend – 24-year-old Mariam Alabi, tells SIMON UTEBOR what transpired and how he found himself in police net

1.Could you tell us a bit about yourself?.

My name is Victor Orji, I am 18 years old. I was born on July 9, 2001. I am from Benue State. My mother is from Enugu State while my father is from Benue State Olatagba Abadi Local Government. I attended Al-Barka Primary School and I moved to Oduduwa Junior High School and I moved down to Gbagada Senior Grammar School, Lagos. I completed my secondary education in 2016.



2.The lady you set ablaze, who is now deceased, was said to be your girlfriend, when did you start dating?.

We had been dating since February 28, 2019. I met her through a friend.

3.What was she doing when both of you met and became friends?.

She was a sex worker. I was aware of that. Initially, our intention was not to date each other. I only wanted to have sex with her and pay her off.

4.How did you get yourself into this situation?.

It started on a Monday. I gave her some money to make her hair. She went to Badagry for the hairdo because I did not have enough on me. On a normal day, if she wanted to make her hair, she used to go to Lagos Island to get it done. She left around 7:15am and returned around 8:30pm.

I tried to find out why she came back at that time. I told her the following day (Tuesday) to take her bag and leave. She immediately took her bag and she left. She came back on Wednesday with a female friend. I wasn't at home at that time. When I got back and saw her and her friend, Olamide, I didn't say anything because I didn't want to cause a scene while her friend was there. So, we settled our quarrel.

On Thursday, she said she wanted to see her sister who had just delivered a baby at Sango Ota in Ogun State. She also said she would use the opportunity to see her family. So, she left. But I wasn't convinced she was going to see her family. So I called her mum and asked if she knew where her daughter was and her mother said no. But I told her what her...


Posted: at 15-12-2019 06:39 PM (1 year ago) | Hero