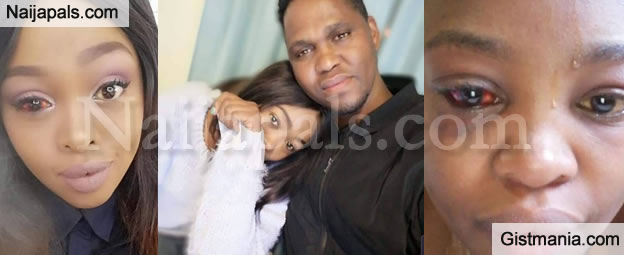 A Nigerian lady has taken to social media to reveal how a guy she met on Facebook abuses and raped her for not supporting him while he was fighting.

This is to say not everything that glitters is gold.

See her post below;

He was the sweetest person I have ever met Humble handsome guy he was Charming My perfect match.

Barely three weeks into it things started taking a turn.

Little did I know that he was in fact a abusive person. With my streak of luck it couldn't get worse.

He battered the living day lights out of me for not supporting him when I was trying to stop him from fighting
(I really didn't want to speak out about this because people kept asking what's wrong and I kept saying I got into an accident or it was an infection
But now this guy is telling people stories about me which are not true and tarnishing my reputation and career)
Lesego Edwin Botlhoko.

He then proceeded to take me to his house and forced me to have intercourse with him he told me in my face I can say he raped me its fine
Slapped my thighs and told me to open them while I was dripping blood.

He refused to give me my dress in the morning and threw it in the tub to soak because it had so much blood on it.

Money went missing from my house. A shit load of drama happened
If you get to see this my guy kudos to you. Bring your army as you have threatened to Say no to abuse we have lost a lot of women because of men like these.

He cried at the police station but I could legit see that he was fake crying, he also admitted that he was guilty and would pay for my medical expenses but disappeared into thin air he later on went to tell people that I was too much for him and I again I say bring your lawyers my guy I'm ready
Every particle inside of me wanted to burn him alive but GOD GAVE ME POWER TO WALK AWAY And MOVE ON WITH MY Life.


---