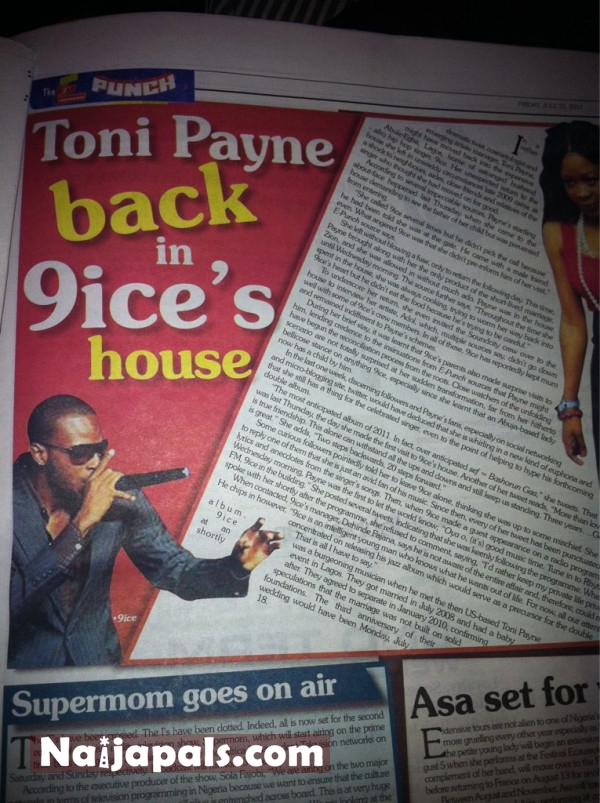 Maybe an album marketing plot, but right now; the estranged wife of Nigerian singer, Abolore Akande AKA 9ice has moved into the Abule-Egba house of 9ice. Gist has it that she has been cooking and doing all house-wife chores since moving back in. Our insider said "Toni is now happy with being the first legitimate wife of 9ice and it is a plus that she already had a male child for the singer".

9ice is due to release his third studio album soon. I personally wish the couple long life and prosperity.

Also it is worth noting that Toni hasnt been in any significant relationship since their split, as such it has been tough to keep the sexual aspect of her life and all the servicing required to make her feel like a true woman (olori in yoruba language) that she is.
9ice, as we learnt has a natural endowment beneath and lots of energy to keep her very satisfied and all her departments well serviced.



The news as reported by punch



Quote

In a rather dramatic twist, cosmetologist and emerging artiste manager, Toni Payne, might have moved back into the expansive Abule-Egba, Lagos, home of estranged husband - afro hip hop singer, 9ice. Her unexpected return to the house she left in unwieldy circumstances late 2009 came as a shock to neighbours, aides, close friends and relatives of the singer who thought she had moved on for good.
According to several impeccable sources, Payne's startling about-face happened last Thursday when she came to the house demanding to see the father of her child but was prevented from entering.
"She called 9ice several times but he didn't pick the call because he had been told she was at the gate. He came with a male friend even. What angered 9ice was that she didn't pre-inform him of her visit, source says.
She left without blowing a fuse, only to return the following day. This time, Payne brought along with her the only product of the short-lived marriage, Zion, and she was allowed in without much ado. Payne was in the house until Wednesday morning. The source further says, "Throughout the time she spent in the house, she was always cooking, trying to worm her way back into 9ice's heart but he didn't eat the food because he's trying to be careful."

To underscore her return, she even invited the Soundcity crew over to the house to interview her artiste, Adol, which, multiple sources say, didn't go down well with some of 9ice's crew members. In all of these, 9ice has reportedly kept mum and remained indifferent to Payne's schemes.
During her brief stay, it was learnt that 9ice's parents also made surprise visits to him, lending credence to the insinuations that Payne might have begun the reconciliation process from the roots. Close watchers of the unfolding scenario are not totally surprised at her sudden transformation, far from her hitherto bellicose stance on anything 9ice, especially since she learnt that an Abuja-based lady now has a child by him.
In the last one week, discerning followers and Payne's fans, especially on social networking and micro-blogging site, twitter, would have deduced that she is whirling in a new kind of euphoria and that she still has a thing for the celebrated singer, even to the point of helping to hype his forthcoming double album.
"The most anticipated album of 2011. In fact, over anticipated sef = Bashorun Gaa," she tweets. That was last Thursday, the day she made the first visit to 9ice's house. Another of her tweet reads, "More than love is true friendship. This alone can withstand all the ups and downs and still keep us standing. Three years….God is great." She adds, "Two steps backwards, 20 steps forward."
Some curious followers pointedly told her to leave 9ice alone, thinking she was up to some mischief. She had to reply one of them that she is just an avid fan of his music. Since then, every of her tweet has been punctuated with lyrics and anecdotes from the singer's songs. Then, when 9ice made a guest appearance on a radio programme on Wednesday morning, Payne was the first to let the world know; "Oya o, (it's) good music time. Tune in to Rhythm 93.7 FM, 9ice in the building." She posted several tweets, indicating that she was keenly following the programme. When E-Punch spoke with her shortly after the programme, she refused to comment, saying, "I'd rather keep my private life private."
When contacted, 9ice's manager, Dehinde Fajana, says he is not aware of the entire affair and, therefore, could not comment. He chips in however, "9ice is an intelligent young man who knows what he wants out of life. For now, all our attention is concentrated on releasing his jazz album which would serve as a precursor for the double album. That is all I have to say."

9ice was a burgeoning musician when he met the then US-based Toni Payne at an event in Lagos. They got married in July 2008 and had a baby shortly after. They agreed to separate in January 2010, confirming speculations that the marriage was not built on solid foundations. The third anniversary of their wedding would have been Monday, July 18.

---
Posted: at 23-07-2011 12:09 PM (10 years ago) | Hero