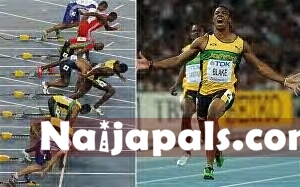 Amid gasps of shock at the World Championships in Daegu, Usain Bolt was sensationally disqualified from the 100 metres final when he became the latest athlete to fall foul of the one-strike-and-you're-out false start rule.

The triple Olympic champion, and an unbackable favourite to retain his world title, burst from his blocks in lane five but within just a couple of strides was tearing off his Jamaican vest in fury, roaring his frustration as he realised the enormity of his error.



Like Britain's Christine Ohuruogu a day earlier, his false start was not even close. His mistake was visible to the naked eye from all parts of the stadium, prompting exclamations of disbelief among shocked spectators.




Bolt was barely able to contain his anger as stormed off the track and attempted to leave the stadium before he was stopped by a local official. With his head turned towards a wall, he could not even bring himself to watch the final, which was won in his absence by his Jamaican training partner, Yohan Blake, in 9.93sec.

American Walter Dix was third in 10.08sec with Kim Collins, the 1993 world champion from St Kitts and Nevis, turning back the clock to claim a bronze medal at the age of 35.

It was an unforgiveable lapse from the world's greatest athlete, who had appeared his usual relaxed self in the build-up to the race as he horsed around in front the TV cameras, pointing to his rivals while shaking his head, then pointing to himself and nodding.

But the one chink in his armoury has always been his indifferent start, and perhaps the need to get out quickly was weighing heavily on him after a season in which he has strolled to find top gear.

He also false-started in the semi-finals of the last World Championships in Berlin two years ago, but that was when the first infringement was punishable only by a warning. He went on to take gold in the final, setting a barely imaginable world record of 9.58sec.

But this time there was no second chance for the Jamaican, who has made no secret of his desire to be considered a legend of his sport. To achieve that he needs to keep winning titles, he admits.

Being reduced to a spectator in the biggest race of the year was certainly not in the plan.

Blake, meanwhile, said the win felt like a dream, and thanked training partner Bolt.

"I can't find words to explain it," said. "My training partner has been there for me.

"I feel like I want to cry. I've been praying for this moment. It feels like a dream."

Asked if he was worried by the quick start made by Collins, he added: "I stayed cool. I knew I was going to catch him and I did."

Collins suggested the false-start rule is not right in its current form, which sees an athlete disqualified for any early move.

"I don't think it is," he said. "These things happen and you've got to give people a chance."
Posted: at 28-08-2011 08:49 PM (10 years ago) | Gistmaniac