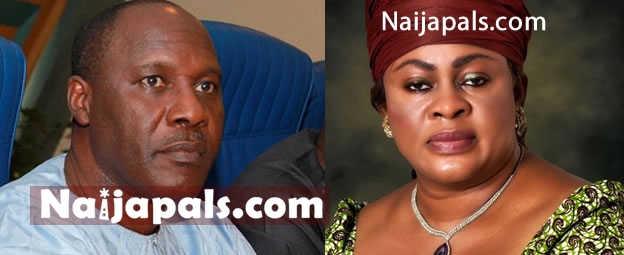 he owner of Sea Petroleum and Gas Company Limited, who is now the country's Aviation minister, Stella Oduah Ogiemwonyin is currently head over heels in love with one of her colleagues in the Federal Executive Council (FEC).

The man who has stolen Stella's heart is said to be the minister of Niger-Delta Affairs, Elder Godsday Orubebe.

According to information available to Naijapals, the love affair between the two powerful ministers is even known to President Goodluck Jonathan who has decided to keep quiet about it.




Interestingly, Stella Oduah is the third wife of the former minister of Works, Engineer Chris Ogiemwonyin until recently when they both went their separate ways.

According to our investigations, Godsday Orubebe and Stella had been having a secret romance while the Aviation minister was still with her husband. But it was done in a way that nobody knew.

Chris was in the government, appointed by the late president Umar Yar'Adua as the minister of works; his wife Stella also had influence in government and a major player in the oil sector through her Sea Petroleum and Gas Company, while Godsday Orubebe was the minister of Special Duties then.

Godsday Orubebe

But only few people knew that Orubebe's rise politically was the handiwork of the then Vice President Goodluck Jonathan. Sources say Orubebe is Jonathan's man Friday and he (Jonathan) recommended Orubebe for the Niger Delta ministerial position.

After the death of Yar'Adua and Jonathan made Acting President, Orubebe became very powerful in the government and he began to position his lover (Stella) into strategic positions in the corridors of power, despite the fact that Stella's husband still held the important minister of Works portfolio.

But at the home front, Stella and Chris were having problems. Sources told us that when he became the Works minister, Chris began to get more closer to his first wife and practically abandoned Stella. This afforded Orubebe the opportunity to penetrate Stella's heart the more.

Eventually, Jonathan had to contest for the presidency last year and Stella Oduah was made Jonathan's Campaign Director of Administration and Finance. The Neighbour to Neighbor Campaign organization for Jonathan was also coordinated by Stella.

When Jonathan won the election and named his new cabinet, he dropped Stella's husband as a minister and made the woman Minister of Aviation, while Godsday Orubebe retain his position as the Niger-Delta Affairs minister.

With Chris out of government circle, Stella and Orubebe had a lot of space to play Romeo and Juliet. Naijapals gathered that Stella had given her husband red card and are now officially separated.

A source in the Federal Executive Council (FEC) hinted that the two ministers are deeply in love and also exhibits it during FEC meetings.

'They behave like youngsters that just found love. Don't be surprised if they get married eventually', our source said.

Stella Oduah, an American University graduate was born January 5, 1962. From Anambra State, the beautiful woman started work at the Nigeria's National Petroleum Corporation (NNPC) in 1983. She left NNPC in 1992 to establish Sea Petroleum and Gas where she hit it big time. Today, Stella is one of the richest women in the country.

On Godsday Orubebe's part, he had always been in politics. Born on June 6, 1959, Orubebe started politics as a supervisory councilor and later became the chairman of Burutu Local Government in Delta State. From there, he became the minister of Special Duties and now the Minister of Niger-Delta Affairs. Godsday Orubebe is a political science graduate of University of Lagos.
Problem with this article? Please contact us
---