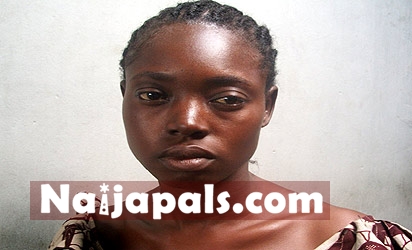 This is the sad and unfortunate story of 27-year-old lady, Glory Yusuf, who became a punching bag because she refused to abort the pregnancy she had for a Naval guy identified as Moses Joseph.




Below is Glory's story as told by her: "I have known Joseph since last year, he was a next door neighbour to my elder sister and we started dating. Later in the year he came to me that he wanted to marry me and we went to see my family members in Lagos.

Later I became pregnant and I told him but he said I must abort my four months old pregnancy but I refused.



"I started seeing another version of Joseph after I refused to terminate the pregnancy. Last year, I saw a woman with two children in Joseph's house and when I asked him, he said they were his late brother's children and wife.

"It was later I discovered that the woman is his wife and the children are his... He told me that he will not be responsible for my pregnancy.

"I went through a lot to take care of myself during the pregnancy and my family members were supporting me.

After I gave birth to the baby on January 13, 2012, Joseph trailed me to the house and forced me to hand over the baby to him. I refused and he started beating me up. It was neighbours who saved me from his hands. As if that was not enough, he came back the next day and demanded for the baby but I refused.



"He slapped me in the face and I fainted. He tried to take the baby away but my neighbours stopped him and hid the baby. I called my mother to come from the village after I regained consciousness.

"

After her arrival, some hoodlums numbering eight, stormed my home, beat me and my mother up. Two of them held guns while the others had broken bottles and sharp objects which they used on me and my mother. I hid my baby but they searched for her and grabbed her from me and ran away.



I ran after them shouting. That was when I saw Joseph on a bike parked ahead at the street. I called out to him to bring my baby, I saw their faces very well because there was light, but Joseph refused. I called his phones but he did not answer."

Hmm.. what an unfortunate incident! Anyway, Police detectives attached to the homicide department of the State Criminal Investigations Department, SCID, Panti, Yaba, have commenced investigation into the matter.

Lets hope justice will be done in this matter at the end of the day.
---
Posted: at 1-03-2012 06:24 PM (9 years ago) | Hero