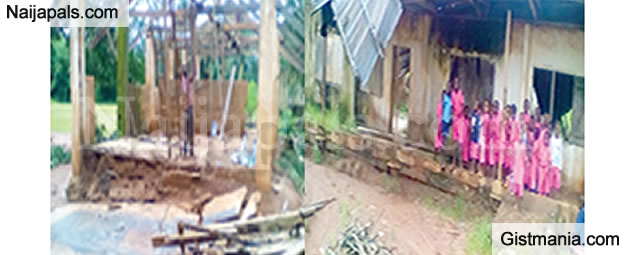 About 120 pupils and eight teachers escaped death when a building collapsed at the Unity Primary School, Umunagbor Ihitte in Ezinihitte Mbaise Local Government Area of Imo State, following an early morning downpour.

On Tuesday, the building collapsed and fell exactly at the spot where the pupils usually gather with their teachers to perform their morning assembly.

A rumour that the building had collapsed during the school's morning devotion, burying some children under the debris had thrown the community into panic, as parents raced to the school from all corners in search of their children. "I don't know who circulated the news that the school collapsed during morning devotion.


With that, the peace of the community was shattered, forcing many to run to the school," a source said. However, the school headmaster, Mr. Rolland Nwogu, said the building collapsed during the early morning rain before anybody got to the school and that nobody was hurt. He said:

Quote

Quote

"What happened was that all of us, both teachers and pupils, came to school a little late on Tuesday; around 10a.m. because the rain started very early in the morning and kept everybody indoors until we came to school to see that one of the buildings had collapsed and fallen on the spot where we gather to pray in the morning and afternoon.

"We are only thanking God that it happened before we arrived at the Idris school. It would have been a different story if we had arrived school the usual time to perform our morning devotion." Nwogu noted that the panic expressed by some parents was unnecessary because nobody in that village left his or her home before 9a.m. because of the heavy rain.

The headmaster disclosed, however, that one of the illustrious sons of the community, Dr. Marcel Oguh, was making arrangements to rebuild the classroom block before the incident occurred. He said: "As you can see, these people working here could have been here, but that rain stopped them from coming.

What if they came and this fell on them? So, we are indeed thankful to God that it happened the way it did and no life was lost." Nwogu called on the state government to remember the school as all the classroom blocks have become dilapidated because of years of neglect.

He added: "As you can see for yourself, we are in dire need of classrooms. We have four classroom blocks and only one is in use. The rest are no longer habitable. It was this pitiable state that led to this collapse. As you can see, we need help."
---
Problem with this article? Please email reporter[at]naijapals[dot]com or visit our contact page