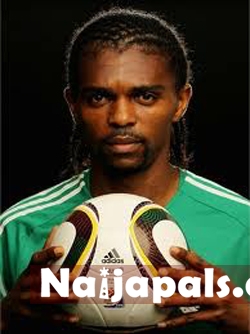 «§» 1 August 2012

Nigerian footballer Nwankwo Kanu, clocks 36 today. He was born on 1 August 1976.

Kanu who was last attached to Portsmouth. He was also a member of the Nigerian national team for 16 years from 1994 until 2010. Kanu is a member of the Igbo ethnic group; his name, Nwankwo, means Baby boy born on Nkwo market day in the Igbo language.

Kanu has won a UEFA Champions League medal, a UEFA Cup medal, three FA Cup Winners Medals and two African Player of the Year awards amongst others. He is also one of few players to have won the Premier League, FA Cup, Champions League, UEFA Cup and an Olympic Gold Medal. He holds the record for most substitute appearances in Premier League history, appearing from the bench 118 times. He is also a UNICEF ambassador.

Biography

Kanu was born in Owerri, Nigeria. He began his career at Nigerian league club Federation Works, before moving to Iwuanyanwu Nationale. After a notable performance at the U-17 World Championships he was signed by Dutch Eredivisie AFC Ajax in 1993 for €207,047. He made his Ajax debut the following year and went on to score 25 goals in 54 appearances. Kanu also came on as a sub in Ajax's 1995 Champions League final win over AC Milan. In 1996, Ajax sold Kanu to Serie A side Internazionale for around $4.7 million that summer he captained the Nigerian team that won gold at the Olympics, and scored two late goals in the semi-finals against powerhouses Brazil to overturn a 2–3 scoreline into a 4–3 win in extra time. Kanu was also named African Footballer of the Year for that year.

However, soon after returning from the Olympics, Kanu underwent a medical examination at Inter, which revealed a serious heart defect; he underwent surgery in November 1996 to replace an aortic valve and did not return to his club until April 1997. In interviews, Kanu frequently cites his faith as a Christian,[7] and has often mentioned this trying time of his career as an occasion when he prayed to God. Kanu's experience also led to his founding the Kanu Heart Foundation, an organisation that helps predominantly young African children who suffer heart defects. Kanu is known throughout Africa for his philanthropic work.

Kanu was a member of the Nigerian national team from 1994 until 2010, making his debut in friendly against Sweden. Earlier on at the start of his career, Kanu was instrumental in Nigeria's overall success at the 1993 FIFA U-17 tournament in Japan and their subsequent 2–1 victory over Ghana in the final. With five goals, he was second joint-scorer in the tournament with Peter Anosike and Manuel Neira, behind compatriot and Captain Wilson Oruma.

As well as winning the Olympics gold in the football event at 1996 Olympics, Kanu participated in the 1998 and 2002 FIFA World Cups. On 24 June 2010, Kanu ended his international career following Nigeria's exit from the 2010 World Cup in South Africa. Nigeria lost their group matches against Argentina and Greece, before a 2–2 draw with South Korea ended their stay in the tournament. He won 86 caps and scored 13 goals for his country and was the joint most capped Nigerian player of all-time alongside Muda Lawal, until Joseph Yobo surpassed both players in 2012, winning his 87th cap.

Arsenal

In February 1999, after just eleven games and one goal for Inter, Kanu was signed by Arsenal for approximately £4.15 million. His debut for Arsenal, against Sheffield United in the FA Cup, was a highly unusual match.

West Bromwich Albion

West Brom had just been promoted to the FA Premier League for the second time in the space of two years. Kanu started as a regular for the club, making his debut in a 1–1 draw away at Blackburn Rovers on 14 August 2004. He scored his first goal for Albion on 18 September 2004, an 88th-minute equalizer in a 1–1 home draw against Fulham. In a match against Middlesbrough on 14 November 2004, Kanu was guilty of an incredible miss in injury time, with Albion 2–1 down. Kanu had sent a low cross over the bar from a yard away from the goal line. Manager Bryan Robson was seen in TV footage mouthing the words "How did he miss that?", and Kanu's howler was crowned 'Miss of the Season' by many television stations in the end-of-season reviews. Nevertheless, the 2004–05 season was ultimately a memorable one for West Brom, as they became the first club to avoid relegation from the Premier League after being bottom of the table at Christmas.

Portsmouth

Kanu was a free agent following his departure from West Brom, and he signed for Portsmouth on a one-year deal shortly before the start of the 2006–07 season. Pompey had undergone a revival in the second half of the previous campaign, following the return of Harry Redknapp as manager, avoiding relegation by four points after being in serious danger at the turn of the year. At the start of the 2006–07 season, they were undefeated in their first five games, during which they did not concede a single goal. Kanu made his debut for Portsmouth as a substitute against Blackburn Rovers on 19 August 2006, the opening day of the 2006–2007 Premier League season. He scored twice and missed a penalty. Though Kanu led the top scorers chart early in the season, he had a goal drought for the rest of the season, but still finished as the top goalscorer for Portsmouth, with 12 goals.

In his second season at Portsmouth, Kanu scored in both the FA Cup 1–0 semi-final win against West Bromwich Albion and the 1–0 win in the final against Cardiff City, earning him a third FA Cup winner's medal.
---