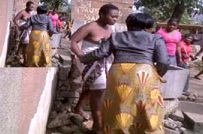 A popular big girl in town recently got more than she bargained for as the wife of a wealthy man who she has been enjoying "good times" with in different hotels finally caught her red handed. This time she didn't invite the sugar dáddy, said to be a well connected businessman, to a hotel but followed him to his house after she learnt that the man's wife had traveled out of town.
The secret lovers went in but something happened as soon as they took off their clothes…
TON gathered that the man's wife showed up from no where and chased this so called big girl out of her house with only pánts and, even the pánts, she later took it off her wáist on the street.

While trying to escape, the lady ran into a house to seek refuge but once the woman in the house heard what she had done, she immediately drove her out again into the hands of the angry wife, It was indeed a "bad market day" for this beautiful lady.
Problem with this article? Please contact us