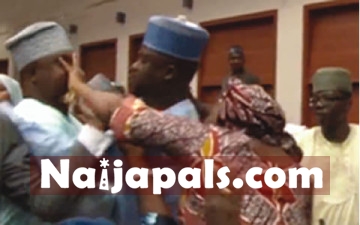 Fighting erupted in the House of Representatives on Tuesday when seven governors loyal to the New Peoples Democratic Party visited the House in Abuja.




A member of the House from Bayelsa State, Mr. Henry Ofongo, was punched and shoved repeatedly by his colleagues for daring to oppose the visit. His jacket was pulled off by some members.

Most of the members who crowded Ofongo, were from Kano State, including Mr. Aminu Suleiman, Mr. Baballe Murktar, Mr. Ali Madakaki and Mr. Ado Dogoa.

Mr. Dakuku Peterside and Andrew Uchendu, both from Rivers State, also shoved Ofongo, preventing him from moving close to the high table.

In the ensuing fracas, other members , who were in solidarity with Ofongo, attempted to throw chairs.

One of the lawmakers, who lifted a chair but was prevented from throwing it, was Mr. Ini Udoka from Akwa Ibom State.


---