- 'It was an enjoyable experience'
- 'I'm not a saint, I am a man'
- 'My wife has forgiven me'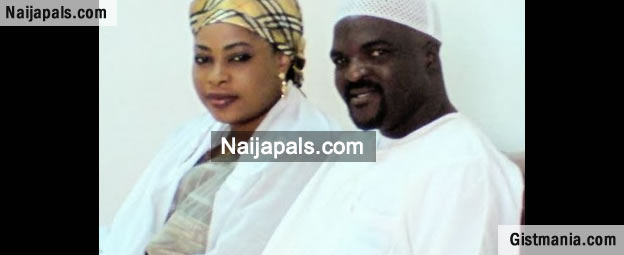 Popular fuji act, Alhaji Abass Akande, otherwise known as Obesere, has reacted to the rape allegation leveled against him by one Miss Olanike Olaiya, a 29-year-old business woman and student of The Polytechnic, Ibadan, stating that there is no iota of truth in the woman's claim. But he admitted having sex with her, and with her consent. Omo Rapala, as Obesere is also known, again denied being arrested and detained over the incident.

The Ibadan, Oyo born entertainer said these and much more in a phone interview with ENCOMIUM Weekly on Friday, March 7, 2014.

Could you explain in details the rape allegation leveled against you by one Miss Olaiya Olanike? How did you get to know her?

I knew her through Alhaja Bola Omoowo, who I also assist in her business. She is just like a sister to me. So, when Alhaja Bola was informed that Obesere rice is coming from Thailand, she pleaded with me that she has a girl, Nike, who she would like to be one of the distributors. That's how she linked her to me. I also investigated Nike through Alhaja Bola, she told me she is a very good girl.

She said there won't be any problem involving her in the business. Then, we started talking on phone since Wednesday, February 5, 2014. But she insisted she would appreciate seeing me one-on-one. And I had to give her an appointment. She now came on Monday, February 10, 2014, around 9pm. She waited till I came back at about 10.30pm. Nike was so happy and excited meeting me one-on-one for the first time. We exchanged pleasantries and all that.

What followed?

I asked if she had eaten and if not, I could buy food for her but she said she wouldn't mind preparing food for herself if there is food stuff. Then, I allowed her into the kitchen and she prepared what she wanted to eat.

Why did you do that being the first time?

I allowed her to enter my kitchen because of the personality that introduced her to me. We discussed the business she came for, and when I realized it was getting late, I told her to be going back home but she said she wouldn't mind sleeping over.

That's why I allowed her to be with me till the next day but to my surprise, she didn't leave until the third day. Even that day I asked if she was ready to leave because I had an appointment but she said she preferred to wait till I come back. She said Alhaja Bola was coming to Lagos that day for a meeting about the said Obesere rice and she will also use the opportunity to see her.

Later, Nike called and told me that Alhaja Bola had arrived and that she wanted to go and meet her at Sheraton Hotel, Ikeja, Lagos, the venue of the meeting. After the meeting, they left for Ibadan, Oyo State. The following day, Nike called me on phone and said she had been bleeding since she left my house.

I was surprised to hear that from her, I now asked her the cause of the bleeding. I also advised her to inform Alhaja Bola so that she could take her to hospital to find out what exactly was wrong with her. But she told me she wouldn't want Alhaja Bola to know about it because she might discuss the matter with other people, which she won't like. But I found it difficult to understand what she told me.

I decided to call Alhaja Bola myself and explained to her what Nike told me. To my surprise, Bola told me there was nothing like that but she would call me back in 20 minutes and explain what was going on.

But after waiting for about 25 minutes, and I didn't hear from Alhaja Bola, I had to call her myself. She now told me that nothing was wrong with Nike. She said Nike wanted to take me for a ride. Alhaja Bola said Nike wanted to conspire with her and dupe me for about N10 million.

Alhaja Bola now told her she couldn't be part of that kind of shady deal because I have been nice to her. She now sent her out of her house with her daughter.

So, she has a daughter?

Yes, the name of her daughter is Folawe. Nike is an adult, a very mature lady.

But it was reported she also came to your house and reported the matter to you…

Yes, she came. After she was sent out by Alhaja Bola, she had to come back to Lagos. When she came to my house, she said the same thing she told me on phone, I now instructed my manager to take her to my private doctor for treatment. But the doctor said there was nothing wrong with her.

But did the doctor find out if she was truly bleeding?

Yes, he said she wasn't bleeding. He said there were no traces of that at all. But the doctor advised that she should go for a scan to find out what exactly was wrong with her. It was in the evening, my manager had to lodge her in a hotel so that she would from there be taken to the hospital for scan the next day. But when my manager got to the hotel in the morning, Nike had left. The next thing we saw was police invitation.

I wasn't around. And when my security man called me about the invitation, I asked my lawyer, Barrister Roy to represent me at the station because I was in Osun where I was to perform. So, when the lawyer got to the station, what he met there was totally different. The lawyer told me that the matter at the station was that Nike accused me of molesting her.

Which police station was that?

That's Isolo-Okota Police Station. In his own view, he said maybe Nike had bribed all the police officers there because of the situation he met at the station. So, he advised that we should transfer the case to Adekunle Police Station, Panti, Yaba, Lagos, for proper investigation.

I gave him the go ahead. When they were informed at Isolo-Okota Police Station that the case had been transferred to Panti, they were all surprised. But despite the transfer, when I came back from Osun State, I went to honour the invitation at Isolo-Okota Police Station and I made it known to the officers there that they were biased about the case.

But the report was that you're arrested…

(Cuts in) I was never arrested and detained. I walked to the station myself and left same day. The next day, the Divisional Police Officer (DPO) got a letter notifying him that the case had been transferred to Adekunle Police Station, Panti, Yaba, Lagos.

The DPO, Ibrahim Adamu was shocked. He couldn't believe the case could be transferred to Panti. So, we got to Panti on Wednesday, March 3. 2014. They asked us to state our sides of the matter. Nike was the first to speak. She was asked to provide the evidence that she was truly molested. They asked if she screamed, if there was any mark on her body in the course of struggling with her and all that. She was even asked if her bra and pant were torn.

When she couldn't provide any evidence, they said she should think of another thing to say against me, she should forget about rape, meaning that she was lying. But investigations still continued. I am now the complainant.

Why are you now the complainant?

I am the complainant at Panti now. I took the case there because of Nike's false accusation. And the police are still conducting their investigations. On Thursday, March 6, 2014, I went to Panti but she didn't show up. Police had to go to her Festac home address, they couldn't find her there. It was discovered that that she left a fake address at the station.

So, they don't know her whereabouts at the moment?

Yes.

What's going to happen next now?

The police knows what next. I can't teach them their job.

But you had sex with her?

What are you saying? Somebody who slept in my house for almost three days? Am I not a man? She even confessed she enjoyed me better than anybody ever. So, tell me how can she call that rape? Where is rape coming in this matter between two adults? I am surprised o, my brother.

Why did you made love with her, when you're married, even in your house?

I am not an angel. Besides, I am a complete man. So, you can't rule that out in a man because we're all human beings. But what I can't do is to rape and I didn't rape Nike. That was obvious.

Was there any misunderstanding between the two of you before she left your house that day?

There was nothing like that.

Did she request for money which you couldn't oblige?

Not at all. She didn't ask for money but within me, I had a plan to make her happy for meeting me.

But what's going to happen now?

How? She has messed up the whole relationship now. There is nothing to talk about again. Nothing can happen between us again.

But Nike claimed you inserted a ring in her private part, soon after she started bleeding profusely…

(Cuts in) There was nothing like that. She was only lying, looking for a way of blackmailing me so that she can achieve her aim. I have only a wedding ring and the finger bearing that can't even do anything like that. I didn't do anything like that. For a person to have slept for three days with me and she is now saying rubbish. Nike is a blatant liar and a scammer.

What's going to happen next now?

I want to charge her to court for libel. I want her to learn her lesson. She should stop being dubious. I also want every girl out there to learn from her. They should not embark on that kind of shady deal to swindle men.

What lesson has the incident taught you?

A lot. I just have to advise all men to be careful and watchful of the kind of girls around them.

Did you regret your action, we mean making love with Nike?

Not at all. I can't regret it because it happened naturally between the two of us.

But don't you think this allegation is enough to put your image on the line?

Nothing like that. It can't in any way damage my reputation because everybody knows I am not an angel.

Won't it affect your career?

It can't. I am an entertainer. It can never disturb my career. Even as I speak to you now, I am somewhere in Ogbomoso, where I would be performing tonight.

What was your wife's reaction to the story?

My wife believes I am a human being. I am not an angel. She didn't react badly to it. She only warned me to be very careful with some women. So far you married a wife that understands you, a wife that stands as your mother, you won't have any problem. She is like a mother to me.

What have been the reactions from your fans?

A lot of people have called me, home and abroad. Everybody was surprised. But they all know I can't rape a woman when there are lots of them who are even willing to associate with me. But one thing I believe is that very soon, the truth shall be known.
Posted: at 19-03-2014 01:47 PM (7 years ago) | Gistmaniac