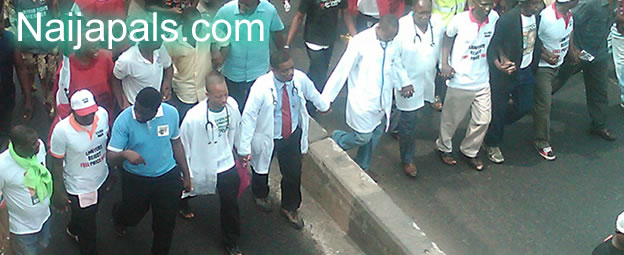 The Nigerian Medical Association, NMA, will today begin a nationwide indefinite strike, following alleged failure of the Federal Government to meet its 24 points demands, including salary increase and other welfare packages.

The association had, three weeks ago, addressed a press conference in Abuja threatening to revisit total withdrawal of services it suspended on January 5.

The decision by the association to embark on the strike may not be unconnected with the failed meeting with the Federal Government in Abuja last Wednesday.

Addressing a press conference in Abuja, NMA President, Dr. Kayode Obembe, who said the decision to embark on an industrial action was taken after the expiration of a two week ultimatum to the Federal Government, said NMA opted for a "total and indefinite strike" at an emergency delegates meeting.

He said: "NMA is taking this painful route because our silence and gentle approach to these contending issues have been taken for granted. We have to take this action to save the health care delivery system from anarchy that is palpably imminent."

Obembe appealed for understanding, calling on Nigerians to prevail on the government to meet the demands.
Lagos NMA ready, says branch chair

The Public Relations Officer, NMA, Lagos State branch, Dr. Ogunnubi Peters, said that no medical doctor will work in public hospitals from Tuesday.
"This decision by the association is based on deadlock from the dialogue between NMA and the Federal Government at a meeting held in Abuja last Wednesday," he said.




Although, government had agreed to meet most of the demands of the doctors during the last strike that was suspended in January, Peters regretted that representatives of the government had feigned ignorance over the issues at the Wednesday meeting.

He said the Federal government is playing hide and seek game with the country's health care sector and urged Nigerians to rise and pressure the government to meet the demands of doctors.

He stated that the stance of the government had not demonstrated commitment. Rather, he said, government was merely buying time by feigning ignorance of what the issues are.

Doctors' demand
Among the issues being demanded by the doctors are the immediate appointment of a Surgeon General of the Federation, increment of hazard allowance to N100, 000 monthly, the establishment of a health trust fund that will enhance the upgrading of all hospitals in the country, reserving the position of the Chief Medical Director/Medical Director for medical doctors only, as contained in the Act establishing the tertiary hospitals, amongst others.
Posted: at 1-07-2014 07:35 AM (8 years ago) | Gistmaniac