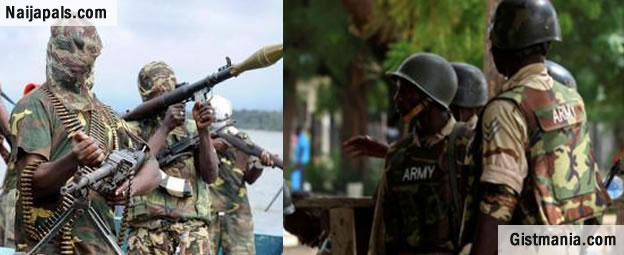 The Nigerian Army has discovered a plan by the Boko Haram insurgents to attack 25 communities and villages spread across five states in the troubled North-East zone.
The plan was on the hit list recovered by Special Forces during an operation at the Balmo Forest.
A security source told Us that the targeted communities are spread across five states of Adamawa, Borno, Bauchi, Gombe, Yobe.
The source said, "There are 25 towns and communities mentioned in the Balmo Forest hit list of the sect recovered by the troops.
"Seven of the villages are in Adamawa while the rest are in four other states, all in the North East. The states are Bauchi, Gombe, Yobe, and Borno.
"There is the general feeling that the names in the list should not be released because it could cause panic, anxiety and fear.
"You know that people would begin to flee the areas once they hear anything. I can tell you that not even one person would be left in the places if you mention the names; and that is unnecessary now.
"What the authorities have done is to ensure that the security presence in the areas is strengthened and the people get the protection they deserve."
Meanwhile, troops have continued their successful operations against the sect.
On Wednesday, they destroyed an armoured personnel carrier, some General Purpose Machine Guns, rocket propelled grenades, improvised explosive devices and riffles used by the insurgents.
Is Nigeria truly winning the anti-corruption war?
Similarly, bow arrows, locally made pistols and guns captured from Book Haram have been taken into custody.
---