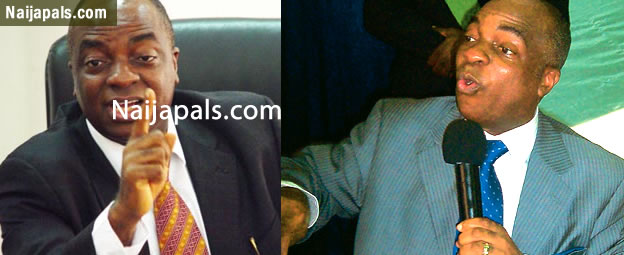 After last week Thursday's Abuja meeting with President Goodluck Jonathan with some Pentecostal pastors including Bishops David Oyedepo of Winners Chapel and Felix Omobude, the PFN president, PDP political strategists are unconvinced how much the pastors can truly deliver on their promises to help the President.
It would be recalled that at the secret meeting in Abuja, President Jonathan confessed, "Osinbajo is my problem". According to those at the meeting, the President added, "everything was okay until APC picked Osinbajo."
It is believed that this conclusion was reached by the President after extensive discussions with his political advisers and strategists on the APC's choice of the law professor cum pastor of the RCCG as General Muhamadu Buhari's running mate.
A source at the meeting said while offers of oil blocks are being made to some of the top pastors at the meeting, PDP strategists are warning the president that General Muhamadu Buhari's running mate, Pastor Yemi Osinbajo is not just a senior pastor trained by the General Overseer of the RCCG, Pastor E.A. Adeboye, but a beloved spiritual son of the highly respected religious leader.
The concern of the PDP strategists is that their (the pastors') promises to support Jonathan's second term ambition may not after all hold much water.
Said another source, "Adeboye values loyalty and Osinbajo is widely known to be very loyal to the General Overseer of the RCCG."
President Jonathan's political strategists are believed to be looking for means to break that bond, but the General Overseer has simply refused to allow himself to be so politically encumbered.
A source said, for instance, that Adeboye did not attend the meeting last Thursday as he has said he would be apolitical since there are members of the church in both APC and PDP. But PDP strategists say coming from the same Pastor who publicly blessed Jonathan before the 2011 election, that was a sign things have changed.
Perhaps not sure of the kind of reception, Jonathan himself had last month stayed away from the December 2014 Holy Ghost Congress, the same event in 2010 where "Daddy G.O" , as he is fondly called by RCCG members, had publicly blessed him. Only a minister from his government, Dr. Tammy Wenike Danagogo, Sports Minister was in attendance and being an RCCG member, the minister was not introduced as representing Jonathan at the event.
One of the very close pastors to the RCCG leader said Jonathan's absence from that event " was a mistake on the president's part."
Some PDP members also point to the public appearance of Pastor Adeboye with General Buhari at the New Year thanksgiving service of Lagos State as proof that Adeboye will not abandon his spiritual children whenever they need him. The PDP strategists are also reminding President Jonathan that Adeboye okayed it that Osinbajo should accept the offer of a running mate from General Buhari even before it was eventually decided and announced by General Buhari.
An RCCG inside source said "Pastor Adeboye is known to have helped some of his pastors and spiritual sons even when they err and fall into troubles, why then do you think, he will not do everything to help his loyal pastor who is being promoted in answer to his prayers."
The source said in training many of his pastors several years back, Pastor Adeboye had always given them his word that he would personally be there for them in their hour of need, a promise he has endured to fulfill even under very challenging circumstances.
Yemi Osibajo, Muhammadu Buhari, Gov. Raji Fashola, Pastor EA Adeboye and Mrs. Adeboye during the annual Lagos Thanksgiving service in Ikeja
There is therefore an acute confusion among PDP Campaign leaders, and the president's advisers on the effectiveness of the secret meeting held last week with the pastors, and exposing the division among the pastors who attended.
Now, President Jonathan is being advised to do more, possibly to reach out directly to the General Overseer for a more public outing with him as the elections draw near. For instance, they cited the impact of Pastor Adeboye's presence a the President's adopted daughter's wedding ceremony earlier this January 2015 in Abuja. It is believed that after his public appearance with General Buhari earlier in January at the annual thanksgiving service, Adeboye's visit to the wedding in the president's family restored some hope of his "neutrality."
However inside sources at the RCCG say Pastor Adeboye is not very particularly enamoured of President Jonathan because as the source disclosed "the president has not been as obedient to Pastor Adeboye as one would expect."
For instance, the source said Adeboye had asked Jonathan, not to run for a second term, and instead choose to support someone else, but Jonathan said ok, but still went ahead to run. This happened even before Osinbajo's name was mentioned as a serious potential running mate.
Others say Adeboye's close relationship with Obasanjo, is another reason he could not possibly support the president the way he did in 2011.
On the other hand, there are those on the APC side who think that Pastor Adeboye should do more, now that a very senior pastor he personally loves and counsels is on the presidential ticket, a first in the history of RCCG, the fastest growing church in Africa.
APC members also discount Pastor Adeboye's attendance at the recent Jonathan 's daughter's wedding in Abuja, saying even former President Olusegun Obasanjo was there.
Meanwhile, Bishop David Oyedepo may have run into trouble with former President Olusegun Obasanjo over his role in the secret meeting with other PFN pastors in Abuja last week.
A source revealed after the news of the meeting became public knowledge that it was Obasanjo who had saved Oyedepo's neck when he ran foul of the law in Ogun State and the APC Governor Ibikunle Amosun's government was perfecting his arrest and prosecution.
Bishop Oyedepo's aides had assaulted some state government staff who were on visitation to one of the schools owned by the Bishop for assessment. It was alleged that it was Oyedepo who ordered the assault on the officials, provoking the government to threaten legal and criminal charges against him.
In the circumstances, Oyedepo reportedly ran to Obasanjo, who then asked him to come over right away to his residence, where the former president also invited Governor Amosun to amicably resolve the matter.
A source said Obasanjo may have been disappointed that despite Oyedepo's personal knowledge of his disavowal of Jonathan, the Bishop was still working hard to support his second term ambition.
---
Posted: at 21-01-2015 04:09 PM (8 years ago) | Hero