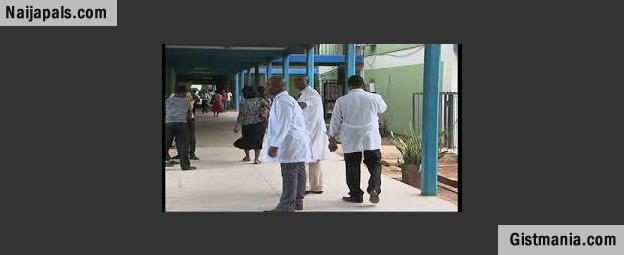 A Cameroonian, Martins Wembe has been jailed for two years by a Magistrate Court sitting in Akure, Ondo State Capital for presenting himself as a medical doctor.

Wembe, who is 30-year-old had been presenting himself to large number of patients as a qualified medical practitioner.

The court presided over by Magistrate Olubunmi Dosunmu also found the accused guilty of illegal operation of hospital.

Delivering his judgment, Dosunmu, a Chief Magistrate said the prosecution had proved the case beyond reasonable doubt that the convict held himself out as a medical doctor without a requisite qualification and also administered treatment to people when he was not eligible to do so.

The convict, who operates "Modern Specialist Hospital" with branches in the state was arrested in April, 2014 and charged to Court on a single count charge of holding himself out as a Medical Doctor without requisite qualification or registration contrary to Section 17(1) and punishable under Section 17(5) of the Medical and Dental Practitioners Act Cap M Laws of the federation of Nigeria, 2014.

Those who witnessed against the convict during his trial included a Police Officer, Egunjobi Sunday, Dr. Obaado Olatubosun, who is the Director Hospital Services, Ondo State Ministry of Health and Chairman Medical and Dental council of Nigeria monitoring Committee in the state and Dr. Henry Okwuokenye, Assistant Registrar and Head of Inspectorate Division, Medical and Dental Council of Nigeria, Abuja.

Dosunmu in his ruling pronounced Wambe guilty and sentenced him to two years imprisonment from the date he was arraigned in Court.

Reacting to the judgment, the Prosecution Counsel, Wale Bamisile described the judgment as victory for the judiciary.

In his reaction, Dr. Obaado expressed satisfaction with the judgment, saying the judgment will serve as deterrent to others.

With the judgment, he said the medical profession will work to protect the populace from the antics of charlatans who parade themselves as medical practitioners.

---
For more scintillating and juicy stories, follow the official Naijapals accounts On Twitter - @Naijapals and Facebook - www.facebook.com/naijapals
---