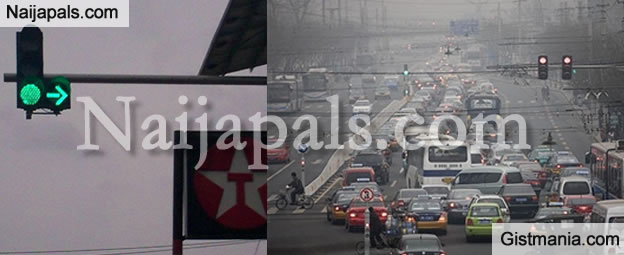 Traffic robbers have a new strategy in Abuja. They use traffic lights to rob unsuspecting motorists.Unfortunately, there is an increasing number of traffic lights in the Federal Capital Territory (FCT), meaning that traffic robbery has increased too.
Here is what Aliyu Hajara, a victim, who was robbed while waiting for the green light to turn on at a traffic intersection in Maitama, had to say.
"When next you are at a traffic light intersection, you might want to be careful."Other victims said these traffic robbers usually follow unsuspecting motorists,either from a bank or office, to a traffic light where they either try puncturing vehicles' tires with objects laden with nails or rob them outrightly.
Another resident, who preferred to be called Mrs. Victoria, shares her story of these robbers at Maitama, not far from Mississippi Junction, in her case, a traffic warden is present.
"I got to that traffic light, and as we were waiting for the green light to come up, one young man tapped at my window, pointed at my tire, and beckoned on me to wind down my glass. As I did to hear him clearer, he immediately opened my car from inside and jumped in. He then brought out a gun and commanded me to open the back door for his colleagues to enter or I lose my life, I opened the door for his colleagues to enter out of fear of being shot. They took my handbag, handsets, cash and all the jewelries I wore."
She said the robber alighted when the traffic light was about turning green onto a waiting motorcycle and zoomed off.When she approached the traffic warden, he said he did not see any person rob her.
While most residents blame the increase in traffic robbery on the increased number of traffic lights in Abuja, Alaba Olaniyi identified the lack of ban on motorcycles as the cause. Abuja is not the only state with an increase in traffic robbery. Lagos has also recorded an increase in this pestering problem. However, Lagosians have appealed to Governor Ambode to free them from this scourge.
---
Posted: at 4-09-2015 03:14 PM (6 years ago) | Hero