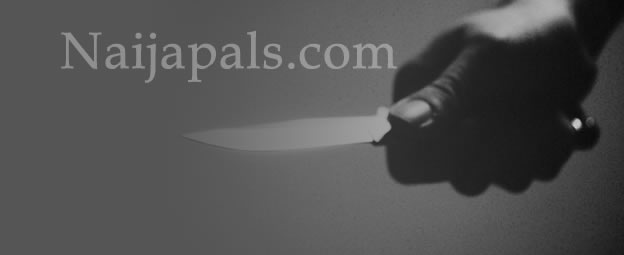 A 34 year-old man, Oamen Nelson, accused of stabbing his father: one Ehiremen Oamen, to death in the Ipaja area of Lagos, has turned himself in to the police. It will be recalled that Nelson, who was said to be a drug addict, had allegedly stabbed his 74-year-old father, an indigene of Edo State to death during squabbles on Monday, September 21 and reportedly escaped from his father's apartment in Block 272, Abesan Estate in Ipaja after the incident. He had also reportedly removed his father's heart and took it away. Nelson's younger sister was the one who discovered her father's corpse after finding traces of blood in the family's sitting room. The lady, who did not want to disclose her name, had found the septuagenarian in a pool of blood. She subsequently raised the alarm.
Some neighbours and residents, who also rushed to the room to see Ehiremen, observed that there was a deep hole on the left side of his chest and later discovered that Nelson removed his father's heart before absconding. However, Nelson who had earlier escaped from the house reported at the Ipaja Police Division and had been reportedly transferred to the State Department of Criminal Investigation (SCID), Yaba, for further investigation.. According to reports, Nelson was said to have walked into the police station to report himself a few days ago, during which he allegedly confessed to the crime. Confirming the arrest, the Lagos State Police Public Relations Officer, DSP Joe Offor, said, "The man has been arrested.
"He actually handed over himself to the police at Ipaja, who took him to the SCID, Yaba." Offor added that Nelson also confessed to the crime.