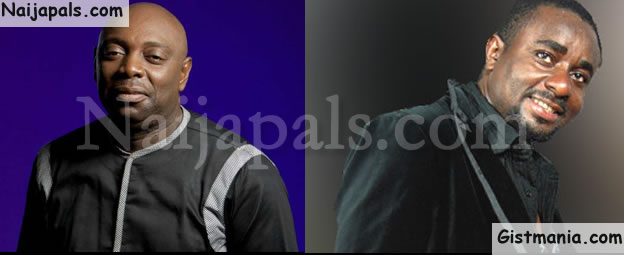 The war between iconic actors Segun Arinze and Emeka Ike seems to have no end in sight. In a recent interview, Arinze had said Ike should stop embarrassing the Actors Guild of Nigeria by parading himself as its president.

According to Segun:
'Emeka should grow up. As far as I am concerned, Ibinabo Fiberesima is the bonafide president. Even in the recent judgement that came out recently telling us to return to the status quo, what does it mean? We were told to go back to the way we were. There was no time Emeka Ike was pronounced the president of AGN. Let him bring out the copy of
the judgement and show us if he is man enough. He should wake up and stop embarrassing the guild."

Well, these words did not go down well with Ike who believes Segun Arinze "is an illiterate who should have been in jail." He told Saturday Beats:
"I heard Segun Arinze was interviewed and he said so many things about me and nobody asked me for my own side. I don't think it was a balanced report. Segun Arinze did not say anything meaningful, he was just cursing himself. That is not how to handle legal matters.

In legal matters, we take things from the law's point of view. Segun that is talking to the journalist is supposed to be behind bars because he committed a crime that should have sent him to jail. There was an order that he violated by bringing in Ibinabo as the president of the Actors Guild of Nigeria. I have been saying this since. That is why Ibinabo's tenure was called 'contentious.'

Why should we the educated people allow market people to talk? I am a very cerebral person and I don't deal with men who cannot read and do not understand the legalities of the paper they have in their hand. I cannot be trading words with a common street boy because if you did not go to school, you cannot understand some legal issues. So, he cannot assess the judgement of the court of law."

Meanwhile, the actor who is currently going through a divorce case with his wife, Suzzane, said that contrary to reports that made rounds early in the week, he and his wife have yet to reconcile. He told Saturday Beats that his wife never came to their house to beg him. He however said they are still making reconciliatory moves.

"I don't know who put up the post. I don't know if she was the one that sponsored the post or some of her friends. I am trying to know the source because those pictures were taken when we went on holidays in Florida. They were taken as far back as 2010. I don't know why someone would just wake up and cook up some story from his laptop.
I have been quiet since the report came out because I do not know where it emanated from. I don't know if it is coming from her and maybe she is trying to make a soft landing. I just kept quiet and I have been very objective on the matter. We are not back together but we are making moves to see if things can work out," he said.

---
For more scintillating and juicy stories, follow the official Naijapals accounts On Twitter - @Naijapals and Facebook - www.facebook.com/naijapals
---