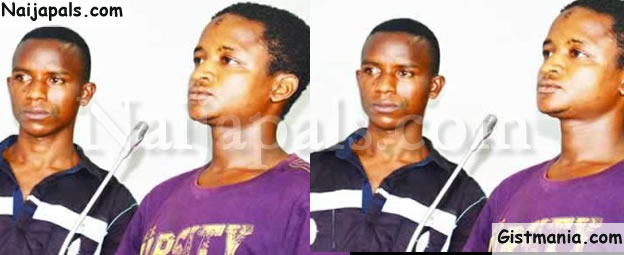 A suspect, Babawuro Kato, who was allegedly involved in the abduction of elder statesman, Chief Olu Falae, said he and two others carried out the kidnapping to get money for Sallah celebration.

He also stated that the mastermind of the kidnap did not share the N5m ransom he received with his accomplices.

Falae was kidnapped on his farm at Ilado village in the Akure North Local Government Area of Ondo State.

The incident, which occurred on the day Falae, a former presidential candidate of the All Peoples
Party, clocked 77, caused apprehension in Ondo State.

It was reported that the gang had demanded a sum of N100m ransom from the family.

On Thursday, September 24, four days after the abduction, Falae was brought back to his residence in Akure at about 4.45pm.

However, Kato, who was paraded along with an accomplice, Abdullahi Usman, aka Kadiri, by the Department of State Services on Monday in Abuja, explained that the mastermind ran away with the ransom.

Punch reports that the 23-year-old herdsman said that the unnamed man behind the abduction initially deceived other gang members that Falae family asked him to come for the ransom in Abuja, adding that the suspect fled after receiving the money, shortly before the former presidential candidate was released.

Speaking in broken English, Kato said:
"Three of us were involved in the kidnapping and we kidnapped the man (Falae) because we were looking for money to spend during the Sallah celebration. But the man who collected the ransom ran away with it and did not share it with us."
The suspect, who claimed to be an indigene of Plateau State, said the gang fed their captive with loaves of bread and soft drinks.

The second suspect, Usman, however, denied involvement in the crime, saying he had been telling the DSS officials that he knew nothing about the abduction.
"I am not involved in the abduction, I have been explaining to the DSS that I don't know anything about it, but they wouldn't listen to me," he said in Hausa.
A DSS official, Abdulahi Garba, who paraded the suspects, said they were arrested on October 5, 2015, at J. Zebra Hotel along Ganaja Road, Lokoja, Kogi State.

He said,:
The service wishes to state that the abductors were criminals and investigations have further revealed that their action was not targeted at Falae as a statesman and prominent Yoruba leader."
Garba said it was unfortunate that the incident was being given an ethnic colouration, and urged Nigerians to live peacefully with one another and to shun "attempts by mischief-makers to give this incident an ethnic or any other colouration and use same to cause disaffection among the populace."

He added that efforts were being intensified to bring to justice all those involved in the criminal act.


---
For more scintillating and juicy stories, follow the official Naijapals accounts On Twitter - @Naijapals and Facebook - www.facebook.com/naijapals
---