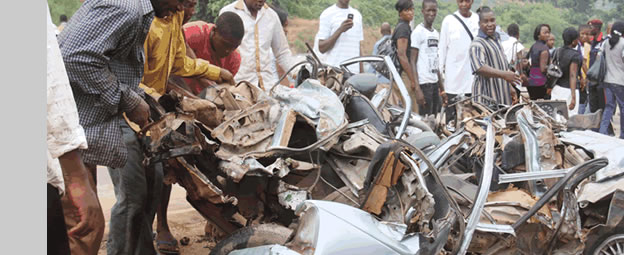 No fewer than nine persons including a driver and three members of a family died Wednesday in a fatal accident that occurred in Ishiagu-Awgu Expressway in Ivo Local Government Area of Ebonyi State.According to an eye witness, Mr John Okochi, the accident happened when an articulated vehicle and an 18-seater bus, with 18 passengers on board, coming from opposite directions collided. Okochi, whose relative was involved in the crash, said the articulated vehicle, with registration number Anambra JJT143XA; coming from Ishiagu collided with the bus, with registration number Edo SGD541SA, returning from Enugu.
He said the driver and eight others died on the spot while the other victims who sustained various degrees of injuries were taken to a nearby hospital for treatment.
He said all the victims were indigenes of Ishiagu community, who were returning from Enugu in Enugu State.
Posted: (4 years ago) at 4-11-2015 04:01 PM | Hero