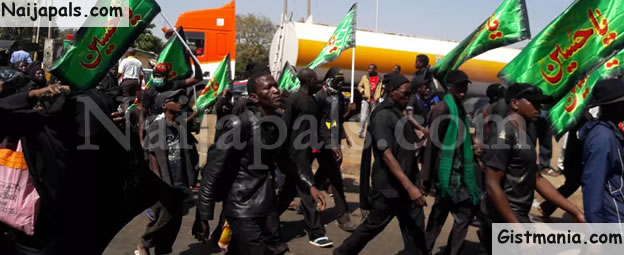 The Shi'ite Islamic Movement Monday continued its procession to Zaria in Kaduna State despite losing some of its members in a bomb attack last week.
About 20 members of the group died when two suicide bombers attacked the group during its procession from Kano to Zaria on Friday.

The bombers, who pretended to be members of the sect, set off the bombs at Dakasonye village in Garun Mallam Local Government of Kano State.

Business activities were paralysed for about five hours on Monday in Kaduna State as some members of the group marched from Birnin-Gwari and some other neigboruing towns to Zaria to attend the grand Arba'deen lecture to be delivered by the group's leader, Ibraheem Zakzaky on December 3.

They also marched through Nnamdi Azikiwe Road in the Kaduna metropolis before joining the Kaduna-Zaria Expressway.

The sect members, comprising mainly children below 15 years and women, were singing "Hussainiyya" praise songs. There were also babies being pushed on baby wheels.
Motorists were forced to park for almost five hours to allow the sect members go through the roads before resuming their journeys.

A traveller, who lamented the situation, told PREMIUM TIMES that the sect chose the wrong day to embark on the exercise.

"Monday is always a busy day all over the world," he said. "I have been here for the past 4 hours and they are still moving. We never moved an inch and yet they are not here."
Members of the Shiite group undertake the symbolic trek yearly to commemorate the 40th day of Ashura.

Ashura is organised to mourn Imam Husain, grandson of the Prophet Muhammad, killed by the army of Yazid, son of Mu'awiyyah in 61 AH.

---
For more scintillating and juicy stories, follow the official Naijapals accounts On Twitter - https://twitter.com/Naijapals and Facebook - www.facebook.com/naijapals
---