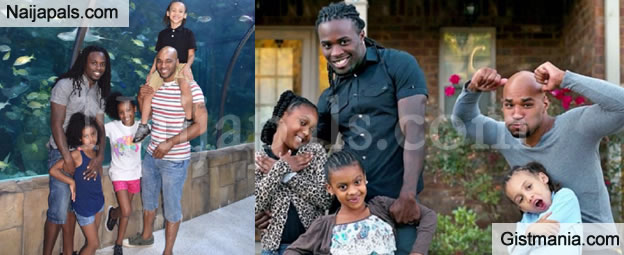 Maybe it's time to accept the LGBT community, maybe it's not, either way, the decision to choose a sexual or life partner is personal and those that have been brave enough to come out with their sexuality are having a great time keeping up with critics. With this day and age in social media, anything can make you famous, especially if you're hated and loved for it. Kordale Lewis and Kaleb Anthony who have weathered the hate storm and presently have more fans than haters, are freely informing anyone who cares to know,they are #gaydads #prouddads #blackdads #havethreekids #allbiologica




Quote

My name is Kordale and I am from Chicago, IL. I am currently employed with the family medical transportation business where I assist patients with their needs. On the contrary my love Kaleb was born and raised in Atlanta, GA where we currently reside. Kaleb is employed at a reputable company here in the city of Atlanta. Together, Kaleb and I have three beautiful biological children; two girls and a boy who we love dearly. As most parents, our goal is to provide for our kids while instilling great morals and values that well help them become productive people in this ever-changing world! – Kordale N Kaleb


In 2012, they were mouth-lashed to fame after posting pictures of their happy family with their three kids. Comments such as "You guys should kill yourselves!!! phyuking disgusting. You have the nerve to be raising children you sick phyuks!!!!" and "ewwww u feel sorry for your kids" were a constant reminder of the choices they made to be together and have kids. The hate was real. They were called freaks, psychos, pervs, and every cruel name imaginable. The couple, Kordale Lewis 27, and Kaleb (with a C) Anthony, 26, respectively, are parents to three kids Desmiray, Malia and Kordale Jr. Their kids are all biological. Their sperm is active, a woman probably acted as surrogate. Kaleb grew up with a bad mother. Maybe that affected his sexual psychology regarding women. Putting a mental block on everything female out of childhood experiences. There are instances where girls who have been raped or molested as kids by men totally detest the male specie as a sexual interest and find solace in the arms of a woman. (Not saying it's applicable in every case). He had second thoughts about sending his kids to go holiday at their grandma's, but a little tweek made him change his mind. Here's what he said:


While they broke up last July, Kaleb posted a statement on Instagram


Quote

"My love for our kids will always prevail even if 'Daddy' and I are no longer together," Truthfully, they are the ONLY reason I am sad to leave and move on." "You should never have to question your worth or [compromise] your morals when you're with your soulmate; it doesn't work out that way … I am happy to be 'Caleb' again. I still love him. I'm willing to start over with MYSELF and find who I really am"I cannot sit here and act like I was not part of the demise of 'KordalenKaleb,' but at no point do I or anyone else deserve to be disrespected the way I was and to continue it on while we're together as a family on vacation." I don't want to be fifty-five resenting myself and my relationship for shit I was not man enough to stand up to in my prime years, so I'm happy I finally took this stand and I'm telling you to not be afraid to walk away when it's not right," he continued. "Love is a beautiful thing when it is with the right person. When that person isn't leading you on, and he or she is TRUE TO YOU."




For anti-gay people, quick question, if you're a good gay parent, does that make you any less of a parent because of your sexuality? For gay people, if everyone were gay, would there be kids?