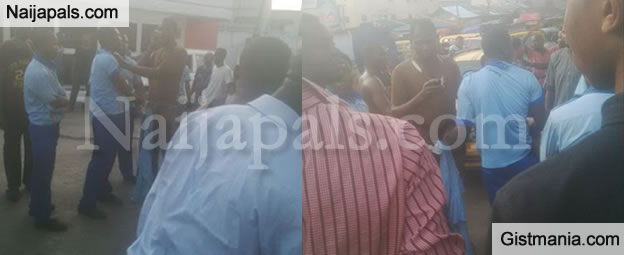 A man came to buy fuel and he was supposed to collect 30 naira balance in return. The fuel attendant said he didn't have any change but the customer refused, insisting that his change must be given to him because the attendant had charged him extra .
The Oando staff on ground told him to come back for his change but the man insisted on getting his change at that very moment. The aggrieved customer had being accompanied with his friend who also insisted that the 30 naira balance be handed over immediately. As the argument raged, the customer put his hand into the attendant's pocket and brought out all the money, informing him that he must get his change now or else he will not give him his money back. The customer handed over the money to his friend to hold for him, and the said friend disappeared in a jiffy.
This enraged all the attendants at the station, and they are now asking the man to provide the money he took from their colleague's pocket or else he will end up in jail. However, the angry customer continued to insist on his 30 naira change, categorically informing them that the money would only be handed over when his balance was paid. Of course the attendants would not take this. How could the man seize the fuel sales because of N30?? They descended on the man and blows have been flying non-stop, left, right and center.

---
Posted: at 2-03-2016 11:37 AM (4 years ago) | Hero