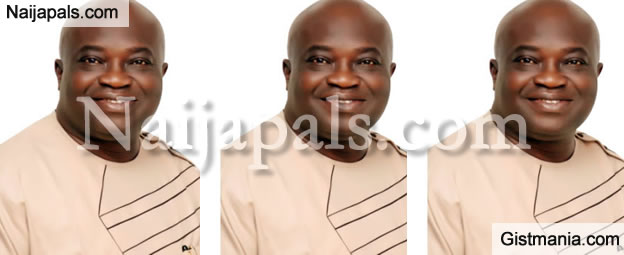 The convoy of the Abia State Governor, Okezie Ikpeazu was ambushed by gunmen suspected to be armed robbers on Wednesday night along Aba-Owerri Road in Aba area of the state. The incident happened at about 8pm near Immaculate Junction, along the ever busy Aba-Owerri Road, while the governor was returning to Umuahia.
Though no life was lost, sources said that the security details attached to the governor fired sporadic shots, which scared the robbers away. It was learnt that the governor's convoy ran into the robbers while they were robbing a suspected Lagos bound bus. On sighting the security vehicle, the gunmen were said to have opened fire without knowing that it was the governor's convoy. Speaking with us the ground of anonymity, a security operative said, "the robbers did not know that it was the governor. They thought that it could be the Army or police, but when they discovered it was the governor's convoy with its full complement of security details, they took to their heels.
"I do not think it was the governor that the hoodlums wanted to attack. It is just that the governor's convoy that was returning from work without the usual siren and the revolving amber light, ran into them."
The incident was, however, confirmed by the spokesman of the Abia State Police Command, DSP Ezekiel Onyeke, adding that he was yet to be fully briefed by the Chief Security Officer to the governor.