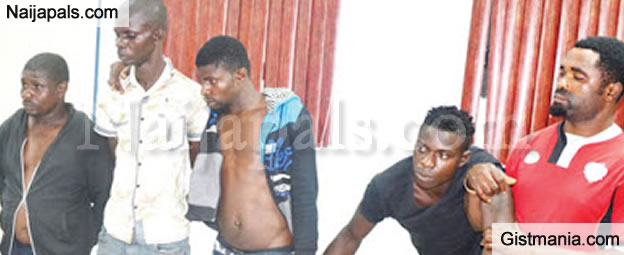 The police on Wednesday in Abuja paraded five suspects for allegedly hijacking electoral materials during the legislative rerun election in Rivers State last Saturday.

The Force spokesman, Donald Awunah, stated that the police recovered from them, a green Independent National Electoral Commission branded bag, eight booklets of ballot papers meant for Emohua Local Government Area, and one INEC accreditation incident reports booklet.

The police also recovered one statement of results booklet and one blood-stained All Progressives Congress agent card from the suspects–Noble Nwaerema, Dike Deinpiribo, Valentine Alalibo, Onwunari Warmate and Iloke Stephen.


Awunah said arms and ammunition recovered from the suspects included, one AK47 rifle, one assault rifle, six magazines and 112 rounds of live ammunition.

He explained that Nwaerema was arrested on December 10, 2016 by the state Anti-Robbery Squad operatives along the Rumusi Elele Road, adding that the suspects claimed that he was hired by the youth president of Itu-Ikwere community together with eight others imported from a neighbouring state.

"They invaded Emohua Local Government and carted away electoral materials meant for polling units within the area; intelligence report confirmed the electoral materials were taken to a government facility and escorted by armed personnel," Awunah stated.




The spokesman said that the quartet of Deinpiribo, Alalibo, Warmate and Stephen belonged to a group of cultists and professional political thugs.

The boys, he added, claimed to have been engaged by one Boma Goodhead who procured two Ak47 rifles and commissioned his driver, one Iryo to convey the weapons in his black Toyota Prado SUV and handed same to the suspects in Degema.

The spokesman stated that the suspects were responsible for several armed attacks that took place during the elections in places like Abonnema, Emuoha, Elele, Eteche and Omoku where a police officer was gruesomely killed.

"The rifles and 112 rounds of ammunition were recovered from them, other members of the killer gang fled and detectives are on their trail," he emphasised.

Awunah said that some security personnel were arrested for professional misconduct, "actions, inactions, omission and commission that were detrimental to the electoral process."

Meanwhile, the state Governor, Nyesom Wike, has said that the violence unleashed on the state during the December 10 rerun elections was planned by some politicians and selected APC governors.

Wike said the violence and theft of mandate of a few constituencies by security agencies were bankrolled by the governors of Plateau, Benue, Kano and Bauchi States through the donation of N1bn each.

Wike expressed regret over the brazen manner that "federal might" was negatively used to ensure the return of APC candidates at all costs.

But the state Publicity Secretary of the APC, Mr. Chris Finebone, described the allegation as mere imagination, adding that no APC governor donated money in respect of the rerun election.

Finebone said, "I think the whole obsession with federal might by Governor Wike stems from his use of federal might to rig himself to power in 2015, the APC has nothing to do with that. Governor Wike should exorcise the spirit of what he did in 2015 so that he will be free from his present hallucination around federal might that is not in use today unlike it was done during the last PDP federal administration."

---