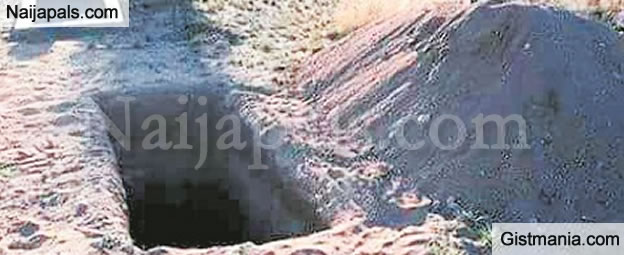 In what will come across as a really shocking development, dead bodies have been found out to have disappeared from their graves. Residents of a South African community have been left in total shock after finding out that no one is safe from thugs anymore, not even the dead. This comes after the bodies of two people who died decades apart were stolen from their graves.


One of the graves from which human remains were stolen in Nelspruit.
According reporters, the shocking incident happened at the old Nelspruit Qabrastan cemetery in South Africa. Nelspruit Muslim Burial Services have now said they will be hiring a security guard following the incident, which was discovered on Saturday morning. It is understood that a group who had visited the area found two graves that had been dug open, with the burial garb (kaffan) in the grave being left still intact.

According to the cemetery's management, the bodies were buried in the 1960s and 2013 respectively.
Imam of the local masjid in Nelspruit, Moulana Yusuf Cajee, said police were investigating the incident.

Quote

"Police were called. They condemned this kind of behaviour by thugs. Police have also stopped people from going to the qabrastan because it is now a crime scene."



The moulana said it was not the first time that thugs had hit the qabrastan.


Quote

"Two weeks ago the plants and flowers were also stolen. There has also been other stuff stolen from gravesites. "We will now place a security guard at the gate of the qabrastan,"

he said.

Local residents in the area expressed their anger following the latest incident and said such criminals should be locked up. Patricia Ngubane (54) said this was disrespect for the dead in its worst form.


Quote

"I cannot believe that someone will go and dig up and steal the remains of the dead. "We urge the police to get to the bottom of the case and arrest the culprits,"

she said.
---