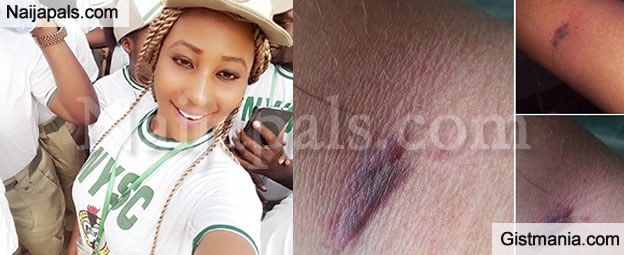 A Female corps member of the National Youth Service Corps (NYSC) identified as Angel Eluna, has taken to Facebook and shared some graphic photos and the story of how she was brutalized by an NYSC official in Ekiti State.
Below is how she narrated her story and photos she posted on social media;


Quote

"This is just an example of how corpers are bn treated in Ekiti state. Someone will leave his or her state only 2b molested by NYSC officials who are supposed 2 make dem feel relaxed in an unknown state.
"An NYSC official in Ado Ekiti brutalized me cos he said i didn't wear my jacket, of which most of d kits given 2me wasn't my size.
"It is only in Ekiti state where Man-O-war hit corpers, it is only in Ekiti state where ppl who don't matter have d right 2 brutalize one who has gone 2ru d four walls of d university.
"If this is d way corpers will b treated in their state of service, I hereby pledge my support 4d scrapping of NYSC. Leave us in our parents houses, rather than taking us 2 places where we will b maltreated."