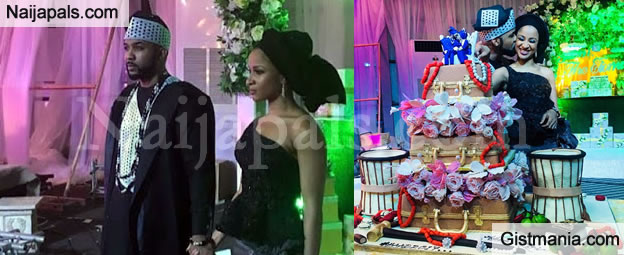 As was expected it was a sumptuously colourful traditional wedding ceremony. Not only was it very colourful, it was supremely stylish to the hilt, everyone made an effort to look totally on point, the colour choice was awesome, burgundy and lilac, Royal blue.....totally a perfect choice. The bride, everly beautiful and in your face gorgeous, wore a "standoutly gorgeous", "made to thrill", very sexy off the shoulder made to measure outfit by young badass designer Toju Foyeh.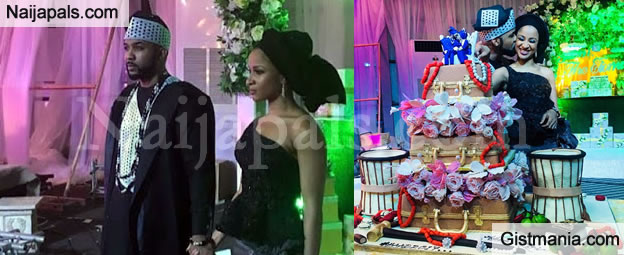 CLICK HERE TO SEE MORE PHOTOS




That it was colourful has already being established above, it was also awesomely star studded, it was like the stars rained down relentlessly on the venue like torrents, they came and came and were part of the reason that the wedding can be tagged "one of the biggest weddings of the season", they were mostly people in the entertainment industry though, except for maybe Tony Elumelu who came in for like 10minutes and left and Mo Abudu the Ebony life boss who is close to both stars marrying, apart from these two many of those who came were the usual suspects, so no need to start naming names.

Ebuka the hunk stood out on his Agbada, tall, well built, handsome and stylish, take a bow, Rita "the incredible" Dominic, was standout in her sexy black outfit, it's like she can't get it wrong on the style stake, we totally loved Beverly Naya's outfit, so also Toke Makinwa and many others.

#BAAD2017 lived up to all the prehype and expectations in all ramifications, the upcoming white wedding is said to be planned for the very idyllic Cape Town, South Africa, which is rated as one of the 'most beautiful spots on Earth. This romantic duo and their entourage would do that City a lot of good we believe.

The traditional wedding was on Sunday, November 19, 2017, the venue was Landmark event centre, the wow wedding decor was heavenly and much attention to detail was put into it as it was very obvious, everything was on point, planned to the t. It's obvious that all that went had super fun, it was very visible in their mien and outlook. Like they would say, it was lit.

Banky's colleague in the music industry entertained him, his wife and his guests; On stage were the sumptuously gorgeous Tiwa Savage, also was Falz the bad guy and then also the ageless Tuface Idibia, who had to cut short his holiday in Dubai with wife to attend the event.

But the most obvious and most important thing about it all, that was very plain for all to see, is that these 2, these stylish duo, these 2 peas in a pod, are madly in love, so so into each other, they are the perfect example of what is called Ying & Yang, both have found a balance in each other, no acting, no forming, just plain and simply LOVE! And like D'banj said years back in one of his greatest hits, "Love is a beautiful thing............Banky Wellington is quite obviously, crazily, madly, awesomely, gobsmarkingly, undeniably, stupendously, superbly, unconditionally, undisputably in Love with Adesua and it's obvious also that it is reciprocal!

Kudos and congratulations to the newly wedded couple.

---