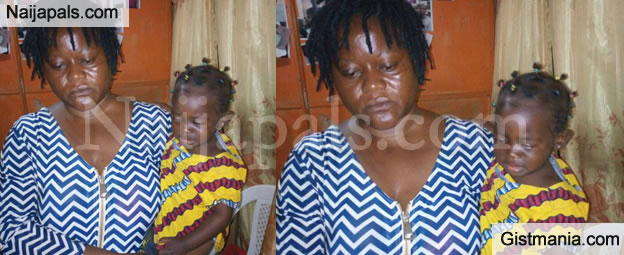 A kidnapper has been arrested as she attempted to escape after stealing a baby in Mile 12 market.

2-year-old Miss Ramudantu Matimu was with her mum at the Yam market in Mile 12, Ketu, Lagos, on May 22, 2018, when Elizabeth Ibezim took her while her mother wasn't looking.

The mother of the child, who is a trader, was busy selling her wares and had no idea her child had been taken. By the time she noticed, she became frantic and a search party was immediately organized to help her find the child.

Fortunately, the child's mother, who was in a near state of hysteria, sighted her child strapped to Elizabeth's back. Elizabeth was trying to board a commercial vehicle at Under-the- bridge bus stop Ketu, a reasonable distance from where the child was taken, and the desperate mother rushed the suspect and struggled to collect her child from her. At this point, the mother raised alarm and people surrounded the suspect. But for the timely intervention of a police team stationed strategically near the market to provide security, the woman would have been lynched.

The suspect has been taken into custody and the case is currently under investigation at the Gender Section of the Lagos State Police Command.


Problem with this article? Please contact us
---