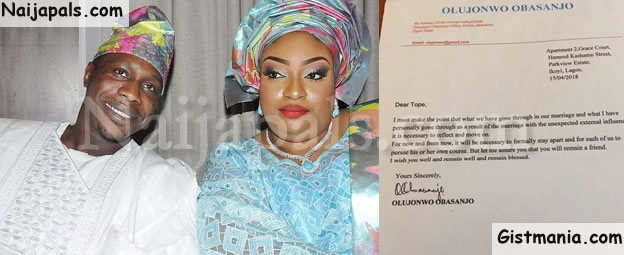 President Obasanjo's son Olujonwo and his wife Tope Adebutu are presently estranged and headed for divorce with a lot of accusations flying back and forth........

Sources say one of the main reasons the Marriage broke down was when the former President's son collected a Contract from his about to be ex brother in law Segun Adebutu the CEO of Petrolex Oil and Gas,He was awarded the contract and was paid N35 million and allegedly didn't execute the Contract and didnt refund the money...

Enclosed is also a Separation letter he sent to his estranged wife asking for a separation and promising to remain friends....



Sources say ''Is that not his signature at the bottom of the letter? He didn't mention he got a contract from her family, he forgot that part.
Did Tope's brother not pay N5m for his rehabilitation, till his brother gathered the money and paid Tope's family back? Please ask him''.

Tope and Jonwo allegedly lived in former President Obasanjo's house after they got married because the groom didn't have a house of his own...This was also a problem because there was allegedly too much interference from his family with his Mother always going there to 'check them out'.

The estranged embattled couple are presently headed for the courts with both sides of the family bitter about the role the other played.
Published at:
01:40 PM, 23/06/2018 (8 months ago)
Author:

Mister Jay Wonder
Problem with this article? Please email reporter[at]naijapals[dot]com or visit our contact page
---