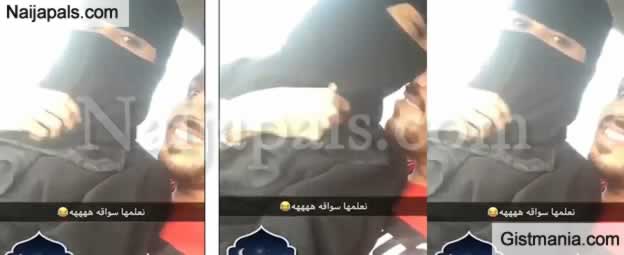 A young couple in Saudi Arabia were arrested after a man filmed himself kissing a woman and shared it on social media. The clip was posted to Snapchat by the man who posted the caption 'teaching her how to drive'.



Now the pair face jail time for their embrace after the video went viral, angering Saudis who blasted them for moral intolerance.

Authorities picked up the man and woman after they recorded a smooch while driving on a highway in Jazan.

Their actions were deemed explicit by Prince Mohammad bin Abdel Aziz who ordered their arrest.

According to Stepfeed, the incident sparked outrage on social media.

A Twitter user wrote: 'Is this for real?'

Another infuriated post read: 'Lack of modesty. I hope they're both caught soon.

'Let them be thrown in jail for a few years so that they learn some respect and manners.'

Saudi Arabia follows strict laws for unmarried couples, who could be jailed just for meeting in public or private.