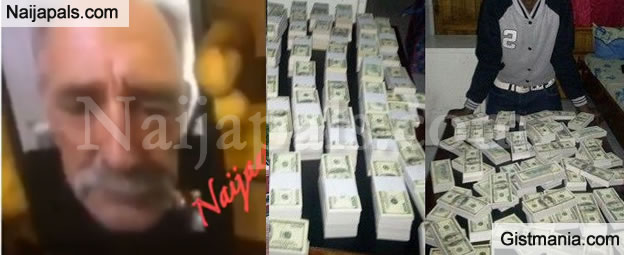 It like all this yahoo boys' are not smiling again.. Look how they make an old man to cry after obtaining money from him..

Watch;



See Reactions;



Quote

canny_kiki Wicked souls
ayobhadhoo.bmg Dis is not d next thing nah why
peace.nicholas This is bad
tolu_wealthSo sad, God will judge you according to the work of thy hands... Such a pity.
temmytiaNah this is wrong in all ways, he could kill himself for that nah haba
poshandfacesNa karma wey u dey use play with ur life,o ma sey ooo
geedon_escaphiniAnd this goes on... Making life hard for Nigerians abroad making honest living but carry the stigma of being Nigerians. Karma is always around the corner.
kekere_002Dis is disturbing
taiwo_thorpeSomebody's sweat and dey 're mocking all this yahoo boys will not inherit Gods kingdom o @kenny__thorpe this man can commit suicide only Gods knows how much dey must have robbed him
bobjuganteJust the way we were crying during the time of slave trade...... If the man like make him cry blood
[email protected]_esheza lol....what is pick?
[email protected]
kira_the.model.magnificientOk this part is not necessary at all.
mekusobiI feel sorry for the man, these baboons keep making a mockery out of Nigerians yet people think its the president when we have delinquents like these ones
messikeedLolest....he asked for Noods. Lol
[email protected]
slamhitfactoryThis is so sad to watch...
[email protected]_esheza oya explain
[email protected]_vee_ as jb
[email protected]_vee_ As in ehn ..its so sad
conteeprinceThis is wickedness eating someone hard earn money.. the worst part is that you guys won't use the money to be better things for your life. Broke ass niggas
chucksdiliGuy una nor try oo
geminiscutestWhat's d meaning of dis nonsense now?


It's bad enof dat u steal from someone,but openly mocking d trust dey had for u, ur punishments will never finish. Dis is so painful to watch
mifizyThe problem now is that Christ will still beg God to forgive them
---