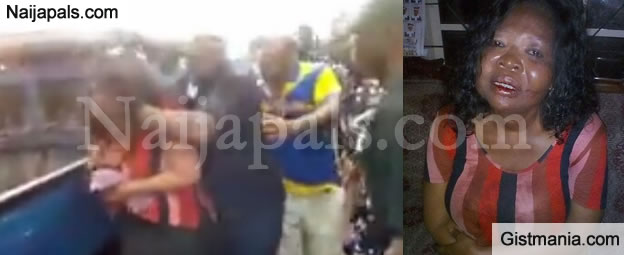 A US-based woman and four people said to be her hitmen were presented by members of Akanu Ohafia community in Abia State and handed over to security agencies.
According to reports by Imo Uka on Facebook, Mrs Ngozi Okoro Okeh, is the chief sponsor of terror, crisis, and destruction in the community. Read post below.


THE CHIEF SPONSOR OF AKANU OHAFIA CRISIS, AN AMERICAN BASED NGOZI OKORO OKEH & FOUR OF HER HITMEN APPREHENDED AND HANDED OVER TO SECURITY AGENCIES IN OHAFIA, ABIA STATE.

History Will Be Kind To The Traditional Ruler Of Akanu Ohafia, EZIEOGO MBA ODO OKEREKE (JP) (The Okpeudo Of Ohafia)...

On Friday (Eke Market Day) 31st August 2018, In A Bid To Seek Amicable Settlement Of The Akanu Ohafia Impass, The Council Of Ohafia Monarchs Sent A Delegation Of Four (4) Traditional Rulers From AMUMA, ABIA, AMANKWU, AND ISIUGWU TOGETHER WITH REPESENTATIVES OF AGE GRADES, INYOM OHAFIA AND OHAFIA IMPROVEMENT UNION TO AKANU OHAFIA FOR THE PURPOSE OF RECOVERING THEIR STOLEN SACRED SYMBOL OF THE WOMEN AUTHORITY.

But To The Chagrin Of The High Powered Delegation, Those MISCREANTS TERRORISING THE ENTIRETY OF THE MOST POPULOUS COMMUNITY IN OHAFIA WERE ORDERED TO RETURN TO ELU, AND WERE EQUALLY THREATENED.

BUT On Saturday, September 1st 2018, The People Of Elu Requested The Assistance Of Their Sisters Village From AMAEKPU OHAFIA Should Please Join Them To Akanu. When The Duo Of Amaekpu & Elu Arrived In A War Like Approach In AKANU, There Was Little Or No Resistance From Those MISCREANTS, Immediately The STOLEN SACRED SYMBOL OF WOMEN AUTHORITY OF AKANU OHAFIA AND OTHER HIJACKED SACRED SYMBOLS WERE RECOVERED.

Before Now, They Have Successfully Uprooted The Signpost Of The EZEOGO AND DESECRATED HIS PALACE, HIJACKED THE INSTRUMENTS OF AKANU TRADITIONAL AUTHORITY OF AKPAN, OGELE( GONG) THE WHITE CHULK (NZU) STAND TO MENTION BUT A FEW.

You Will Recall That The CHIEF SPONSOR OF THIS CRISIS IN AKANU OHAFIA LEFT HER COMFORT ZONE IN THE UNITED STATES OF AMERICA TO AKANU OHAFIA ABIA STATE NIGERIA TO PLAY LOCAL POLITICS OF EZESHIP TUSSLE.

As She and her Cohorts Unleashed A Rain Of TERROR, ARSON, MAIM, DESTRUCTION OF PROPERTIES INTIMIDATION PROCURING OF UNLAWFUL FIREARMS FOR HIS GROUP, HIS BOYS BECAME ABOVE THE LAW.

However, When The SPIRIT OF THE OHAFIA MAN & OF OUR ANCESTORS Came Calling, The CENTER COULD NOT HOLD AND THERE WAS NO HIDING PLACE FOR THE "ALMIGHTY CHIEF SPONSOR OF AKANU OHAFIA CRISIS", NGOZI OKORO OKEH AND FOUR OF HIS HITMEN WERE DRAMATICALLY APPRECIATED, BROUGHT TO ELU OHAFIA,THE TRADITIONAL HEADQUARTERS OF OHAFIA APPARENTLY IN SHAME.

According To The Book Of Ecclesiastes, There Is Time & A Season For Every Activity Under The Heaven...
A Time To Perpetuate Evil And Get Away With It And A Time To Face Judgment.



NGOZI'S Days And That Of Her Four HITMEN Were Numbered, Safe For This UNSUNG HERO OF PEACE OF OUR TIME, EZIEOGO MBA ODO OKEREKE (JP) The Traditional Ruler Of Akanu Ohafia Who Treaded His Precious Life For The Lives Of the Evil And Wicked Enemies Of Akanu Ohafia People In Particular And Mankind In General.

His Majesty, As A Former Air Force Officer Of CAUSE 22. Immediately Mobilized A JOINT TEAM OF THE MILITARY AND POLICE Quickly Arrived The UDUMEZE'S PALACE AND TOOK THESE ENEMIES OF OUR PEOPLE INTO PROTECTIVE CUSTODY.

While The Akanu Ohafia Women Have Returned Home,The Remaining MISCREANTS STILL POSSED A THREAT TO THE PEOPLE ESPECIALLY THE WOMEN.

While NIGERIANS AND THE WORLD, ESPECIALLY THE GOVERNMENT & PEOPLE OF US WATCH THIS URGLY SYNERIOR IN AKANU OHAFIA PLAY OUT, WE DO HOPE THAT THE FULL WEIGHT OF THE LAW WILL RUN IT'S CAUSE AND JUSTICE SERVED ON THESE ENEMIES AND WICKED PEOPLE.

THE ENTIRETY OF AKANU OHAFIA PEOPLE ARE STILL LEAVING IN GREAT DANGER AND FEAR OF THE UNKNOWN, THERE IS THE NEED FOR THE SECURITY AGENCIES TO KEEP AN EYE OF SURVEILLANCE ON AKANU OHAFIA.

WE EQUALLY CALL ON THE SECURITY AGENCIES TO DO THE NEEDFUL BY DISARMING THESE REBELS, SO THAT ETERNAL PEACE WILL RETURN TO AKANU OHAFIA.

LIFE IS SACROSANCT, AND IT'S SANCTITY IS TO BE UPHOLD.

MAY GOD BLESS AKANU OHAFIA WOMEN !
MAY GOD BLESS OHAFIA PEOPLE !!
MAY GOD BLESS NIGERIA & THE USA...


---
Posted: at 4-09-2018 08:40 PM (2 years ago) | Addicted Hero