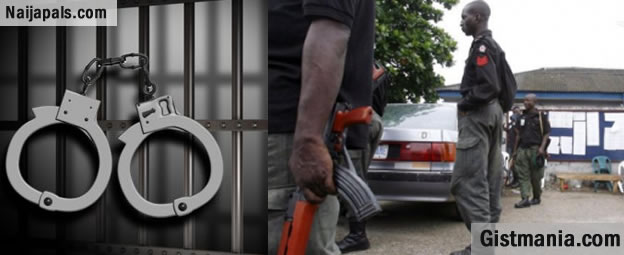 The police in Osun State said on Wednesday that officers did not find other people's permanent voter's cards (PVCs) on a Peoples Democratic Party operative when he was arrested on Monday, contradicting a rumour that has taken roots amongst partisan political interests in the state.
Police spokesperson Folasade Odoro said detectives are only investigating claims that Fatai Diekola was caught while trying to purchase PVCs from residents in Alekuwodo, a packed neighbourhood in Osogbo, the state capital.
"If he was caught with PVCs, at the conclusion of investigation, a statement will definitely be issued," Ms Odoro, a police superintendent, told us on Wednesday morning.
She, however, said Mr Diekola's mission at the location he was arrested was being investigated, especially claims that he was trying to buy PVCs from residents around the area prior to being mobbed.
"Something must have brought about the fracas that happened, after conclusion of investigation we will know the reason," the spokesperson added.
Mr Odoro was clarifying a Tuesday night statement she issued about the arrest of Mr Diekola and two others, which said the politicians were arrested for "buying" PVCs and causing public disturbance. The alleged accomplices were identified as Segun Adekilekun and Sikiru Lawal, both PDP strategists in the state.
The statement did not specifically say the politicians were caught with already purchased PVCs, but named two persons they had approached for their voting credentials before violence broke out.
"They were said to be soliciting to buy additional PVCs from one Olawale Kazeem of No. 4B, Adewale Street, Alekuwodo area, Osogbo and Azeez Sulaiman of No. 3A, Akinlade Street, Alekuwodo," police said. "It was gathered that when the duo declined to sell their PVC, they were allegedly attacked by the supporters of the suspects."
Ms Odoro's statement came hours after a police chief who was amongst those deployed in the state to supervise security efforts admitted that the police did not find PVCs on Mr Diekola, but said they will get a court order to detain him for another day or two in order to keep public peace.
The top officer said Civil Defence arrested Mr Diekola, but the police whom he was handed over to have been under pressure from APC leader not to release him; but also under pressure to release him from PDP leaders.
The development has fueled partisan bickering in Osun ahead of Thursday's re-run election after the 2018 governorship election held on September 22 was declared inconclusive.
Mr Diekola, whose associates claim is an influential PDP community organiser in Osogbo, was arrested on Monday afternoon when a fracas broke out between him and supporters of the All Progressives Congress in Alekuwodo, which holds one of the seven polling units where a re-run will be conducted on Thursday.
Residents alerted law enforcement authorities after the violence broke out, and Civil Defence officers were the first to arrive at the scene.
The Civil Defence handed over the three to the police, who immediately took them into custody. They were treated at the police medical centre in Osogbo for the bruises they sustained during the confrontation with suspected APC supporters.
Residents who witnessed the violence described those who attacked Mr Diekola, 60, as APC thugs, and they trailed him to the neighbourhood that afternoon. The police did not arrest the APC supporters, and they declined comments about why only one side of the violence was arrested.
At least three persons, comprising two men and a 12-year-old girl who had nothing to do with the violence, were shot. The family of Dorcas Abioye said it was a police bullet that hit the high school girl, reported Monday.
Mr Dieokola was in the area to mobilise PDP supporters on a courtesy visit to Ademola Adeleke, the PDP candidate in the Saturday's poll. Mr Adeleke is facing Gboyega Oyetola of the APC in the re-run scheduled for September 27, after they came first and second, respectively, with a margin of 353 votes.
The Independent National Electoral Commission said 3,498 registered voters are in the seven polling units that would participate in the supplementary election across four local government areas for reasons ranging from technical glitches in card readers to snatching of ballot boxes during the election Saturday.
Mr Adeleke's campaign and the PDP said Mr Diekola's influence around Polling Unit 17 in Alekuwodo, which is amongst the seven polling units identified for re-run and the only one in Osogbo, made him a target of the APC, and the ruling party was bent on taking him out of circulation until the election is over.
Jamiu Olawunmi, a spokesperson for Mr Oyetola did not return request for comments on Wednesday morning.
Bukola Onifade, who is standing as the legal representative for the three politicians, told PREMIUM TIMES Messrs Lawal and Adekilekun were on their way to a hospital in the neighbourhood when they were held by APC supporters. He accused the police of not granting him access to his clients and demanded their immediate release from where they are being held at the Criminal Investigation Department in Osogbo.
Published at:
11:14 AM, 26/09/2018 (4 months ago)
Author:

onuigbo felicia
Problem with this article? Please email reporter[at]naijapals[dot]com or visit our contact page
---