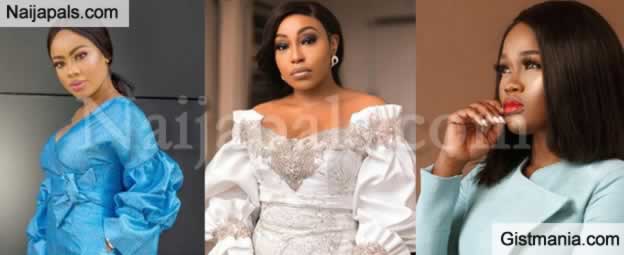 Twitter was sensational on Sunday after Nollywood actress Rita Dominic's phone number was leaked by the social media hacker who took over the Instagram account of former Big brother Naija housemate, Nina. The cyber bully, who identified himself as Yusuf, released not only Dominic's phone number but also the call contact of another BBNaija star, Cee-C.

The hacker, who expressed his commitment to tarnish her image, since the take-over, leaked some private conversations, which to him is a revenge of some sorts.
Rita Dominic Phone Number leaked In the screenshot of one of the leak conversations, Nina was actually complaining to the actress on how she was being stressed by the pressure mounted on her by the fans and trolls.

The hacker wrote,

Quote

"See @ritadominic I use to messaged since i was a small boy to put me into acting kikikiki i will finished you with call today, nigerians called her till she switched off her phone. Tat is her number there.
Very stupid girl. She will change number today."



The hacker also resorted to blackmail as he is threatening to release her unclad photos if he is not paid the sum of N800,000 only.
A quick check on Whatsapp showed that the phone number has the actress picture as it's profile photo and on Truecaller, it indicated "Rita Dominic" as the caller ID.


Shortly after the number was leaked, social media users begun to call the actress while others reacted on Twitter.

See tweets below:
The adhitect
@thatafrikanboy
Replying to @thatafrikanboy


Quote

Don't get me wrong o. She makes me happy and I love her. I decided to take the relationship to the next level. Told my dad you people have been asking me to goan marry that I want to propose to Nina. He said Yusuf I am so proud of you.



The adhitect
@thatafrikanboy


Quote

He decided to support me. He took me a jewelry shop & paid for an expensive engagement ring. I now took Nina out o. We went to get ice cream that's where I said I will propose. We even saw Rita Dominic and CeeC there sef. They came to buy ice cream


OMO INSPIRE
@marybarrah


Quote

But we Nigerians are somehow sha, what will you gain if you keep disturbing Rita Dominic... And to think that some people will start begging on her whatsapp too



officialhouseboy
@ohouseboy
Y'all shouting and praising God that Rita Dominic's number has been leaked, have you forgotten you can change sim card? Phone number no be like BVN o
Josh
@sire_liljosh


Quote

You can't hack CBN and wire money to our accounts. You can't hack my school portal and add to my CGPA. You can't hack DSTV and remove Zeeworld danudanu. You're there hacking Rita Dominic's number. Tueeeh



Isabella IU
@isa_fey


Quote

That Rita Dominic's Number is trending on twitter and that some lazy ass Nigerians added her number to their contacts and are calling her is one of the myriad evidence that shows how many thoughtless Nigerians in existence and how we ended up with Buhari. Mstcheeew!

---
Posted: at 26-11-2018 11:49 AM (2 years ago) | Hero