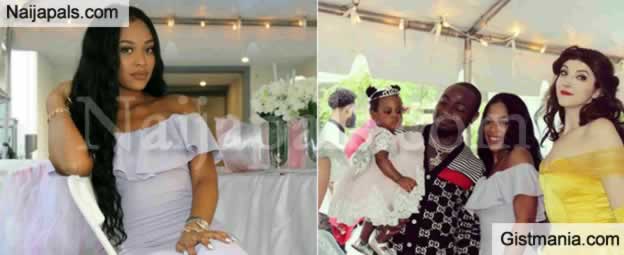 Report has it that Assurance ship Crashed many weeks ago and that Chioma and Davido are pretending to be together for the sake of mutual deals.

When news outfit 'the cable' reported that the lovebirds parted ways due to infidelity on the side of Davido, the singer was furious and promised to sue the media outlet.

Meanwhile, Madam Koo also made the same revelation before it went viral when it was reported by the cable.

The new information making wave about the singer who has being in the news frequently for months is that he's married to his second baby mama, Amanda.

This was exposed by self acclaimed investigative journalist, Kemi Olunloyo who claims to have gotten her facts from Amanda's Cousin.

When the singer turned 26 last week, Amanda and daughter Hailey hosted the singer to a birthday dinner with friends and David's Entourage in the U.s where Chioma was visibly missing.



Davido, Amanda, Daughter, Hailey and friends


Thereafter , he returned to Nigeria for his all white birthday party that had him all loved up with Chioma Avril which had in attendance notable people in the entertainment industry.



Davido and Chioma

However, Amanda Cried out refuting Kemi's Claim as she declares that she isn't married and regarded Kemi's news as Fake.




Kemi Olunlonyo wrote:


Quote

" #HNNAmebo Meet 26yo Mrs Amanda "Mandy" Adeleke. She was married to Davido this year secretly in America. She's a beauty salon technician and expert in ladies lashes. From an average family, Davido spotted her on Instagram slaying and got in touch with her in the DM.

The DM can be a lucrative place for lucky women. Amanda's cousin told me that she won't be caught dead being a single mother baby mama type and she told Davido to put the ring on it.

At the same time OBO was going for that secret court wedding, he decoyed Chioma telling her that her visa was denied as Davido applies for visas for his entourage in groups visas.

Why would they deny one and not the others. She was not meant to be on the trip. Mrs Adeleke threw a birthday dinner for Davido in Atlanta last week as her husband turned 26years and Chioma was barred on that trip too.

I was the first to tell you Chioma left Davido and Cable NG told you due to infidelity. He threatened to sue them. Mrs Amanda Adeleke is the mother of 18months old Hailey Veronica at the end of my video. Mandy says she's not married but my investigation and words with her cousin's say otherwise.

She just found out that nobody else can marry Davido LEGALLY on US soil and polygamy is illegal there. SHE IS NOT DAVIDO'S BABY MAMA. SHE'S JIS WIFE. Sophia and Ayo are baby Mama's while dumb Chioma is a girlfriend.

He's playing them all except Ayo who only wants her daughter fended for."




Problem with this article? Please contact us
---