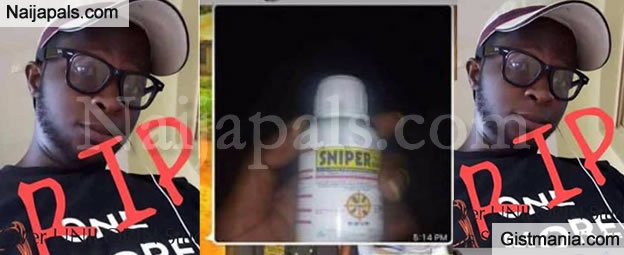 Adigun Olawale Emmanuel, a 27-year old final year student of the Faculty of Agriculture at the University of Ilorin (UNILORIN), has allegedly committed suicide after he failed his final year project, last session, and was made to repeat the current one.

The deceased allegedly died after he drank a pesticide, 'Sniper.' In a social media note left behind, he indicated that he had been accused of plagiarizing his current research work. .

The incident happened, on Thursday night, at Oke-Odo, Ilorin, Kwara state and some neighbours claimed Adigun had been subjected to depression since he failed to make the last graduation list of the institution.

According to his WhatsApp chats, he had uploaded a picture of the Sniper at about 5:14pm, some two hours after he had lamented online about his situation to his friend. .





He had opened the conversation at about 3:39pm when he said in short statements: "Same research work. He said I did copy and paste. Ever since den, things changed from bad to worst. .

Am in a deep mess @the moment. My life don tire me. I feel like dying. I wish I can sleep and not wake up again". His friend however responded with words of encouragement, "Don't give up bros, it gets better". .

The deceased then responded, "I pray xo, Thanks a lot for ur concern. I appreciate a lot. May God continue to bless you. Amen." .

However when he uploaded the Sniper picture, his friend said: "Wale Abeg, Calm Down. Abeg You In the Name of God. Nothing Happen wey God no know about ooo please don't do anything stupid ooooo".

Adigun's grade reported dropped from Second Class Upper Division to Second Class Lower Division, due to the failure
---