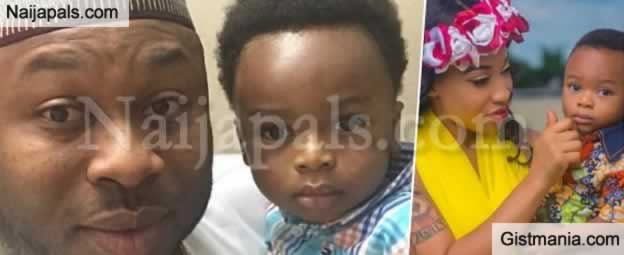 Olakunle Churchill has reacted to the false publication of an alleged judgment by a customary court in Abuja granting his Ex wife, Tonto Dikeh full custody of their son on 3rd of March. He made this reaction after an in-depth investigation through a notice of disclaimer issued by his legal team, stating that there was no court of such or judgment by the alleged customary court.

According to the disclaimer, the alleged false judgment by a customary court in Abuja is false and the publication by a questionable online platform "Cutie Juls" blog as regards the false court judgment was supposedly sponsored by the Actress which is baseless and lacks substantial evidence

Recent Investigations also proved that "Cutie Juls" blog has over time been used and sponsored by Tonto Dikeh to blackmail and promote fake news in view of tarnishing the reputable image of Olakunle Churchill. It revealed that the claims by Tonto Dikeh on the issue of domestic violence, infections and baseless blackmails with reference to an earlier interview video which Tonto Dikeh granted as facts to approve the validity of her claims were misleading.

Senior Associate and head of the legal team reiterated that the only standing judgment on the custody of their son was the judgment filed at the instance of Actress Tonto on the *11th of October 2017 as suit no. FCT/CC/DU/CV/176/2017*.

The court judgment also ordered that all documents of their son must bear the surname of the ex-husband Olakunle by right and that the international passport of their son must be kept in the bank and shall not be released except a written consent of both parties. But his ex-wife violated the court order by fraudulently obtaining another passport for their son bearing her surname to fly the little boy outside the country. The illegal acquisition of a fresh passport for their son was illegitimate and against the consent of the court.

In justification to the discredited reports by the publication, Ace Solicitors has dared the publisher of the fake story to name the particular court and suit number of the case file, if actually, the story is verifiable and substantial. He also condemned the disobedience of Actress Tonto as regards the judgment of 31st January 2018, which gave him unconditional access of their son, King Andre.

He, however, advised the Actress to desist from sponsoring fake news and blackmails on Dr. Olakunle Churchill. However, according to a reaction from Dr. Olakunle Churchill, he advised Tonto Dikeh to return to work and allow him to continue his business, good works and Philanthropic impacts.

The Solicitors also counseled Tonto Dikeh to channel her proposition through legal provisions and constitutional pathways rather than sponsoring blackmails against Dr Churchill.


---