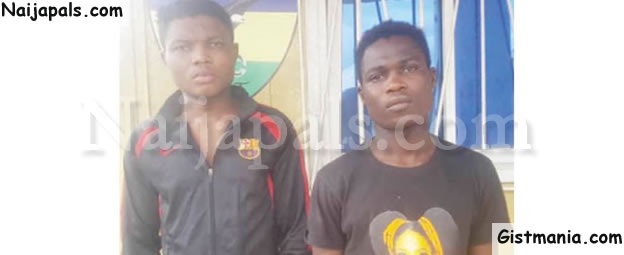 A 23-year-old boy, Promise Uzoma and his cousin, Chukwuebuka Ogubuike, have been arrested for robbing a man of N250,000 and molesting his housemaid at Umugbsi, #Aba, AbiaState.

Recalling the operation, Uzoma said: "When we got to a particular compound, we met the doors open. We entered and met the man, his wife and their maid. We pointed our gun at him and asked for money, his phones and gold jewellery. .

He gave us N250,000 in cash and brought out all his gold jewellery. He cooperated because we threatened to kill him. I don't know what came over me, but I raped his housemaid. .



I also wanted to rape his wife, but I left her because she was a nursing mother. After the operation, I got a Samsung phone and the sum of N100, 000. I didn't bother about the gold. It was after I had been arrested that I learned the jewellery was worth N4.4million." .

Uzoma, a trader, further added: "I sell clothes and foot wears at Ojota Market in Lagos State. I used to buy clothes at Ariaria Market, in Aba."
---