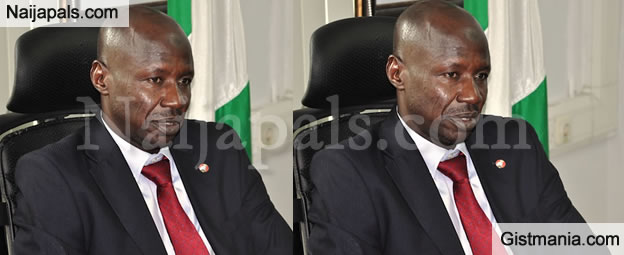 Ibrahim Magu, the Acting Chairman of #EFCC, has disclosed that the agency will extend its dragnet to medical doctors who issue fake medical reports to people facing prosecution on alleged economic crimes in the country.

He said that fake medical reports issued by doctors were also responsible for the prolonging of cases in the courts.

He gave an example of a scenario where a defence counsel argued that his client, who was brought to the court on a stretcher, was going to die if he was not allowed to proceed to India the next day.

Magu said the unexpected however happened when the prosecution requested for two minutes from the judge, left the court room and returned with a live snake and before they knew what was happening, the man on the stretcher, fled ahead of every other person.

According to him, "And this is really the situation. I am telling you. This is exactly what is happening. Now, we will extend our investigation to doctors who connive with criminals and give them fake medical report. I think we have to go after them.

There is a way they can even get false report from abroad, from the hospital. You know in the hospital, you can just contact them, they will send you whatever you want."

Magu also said the EFCC is conducting investigations on some non governmental organisations operating in the northeast as they were being used to move cash around by looters and people who are opposed to the peaceful co-existence of Nigerians.

"We are worried also because of the activities of the NGOs in the northeast. We are conducting very serious investigations. In fact, we will blank some of them because some of them, their activities are very worrisome. .

There are a lot of cash movement. Sometimes, they bring in cash, they fly in the cash.

There is no way some of these NGOs will continue to operate in this country because we are facing a lot of insurgency, illegal mining and banditry. They are all funded by looters and by people who are opposed to the peaceful co-existence of Nigerians," Magu also said.
---