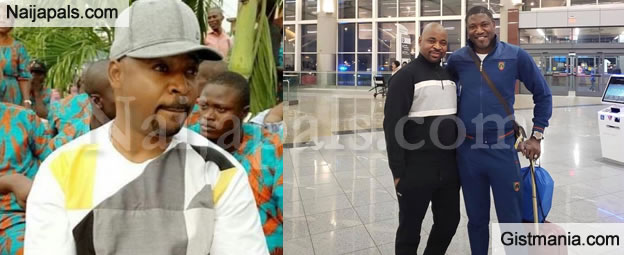 Musiliu Akinsanya is the super popular State Chairman of the Road Transport Union in Lagos, the State of Excellence. Those who coined the phrase Eko for Show must have had their reasons for coming up with such a tag and truly so, there's no lie about the tag. Everything about Lagos and those who live there and those who are from there is loud for a purpose. So just imagine Alhaji Musiliu Akinsanya who is better known or more popularly known as MC Oluomo, apart from being the state chairman of the transport union in Lagos right now, a post he assumed very recently, after being the state treasurer for the last few years, is also an unflinching disciple of the National Leader of the current ruling party the APC, in the person of Asiwaju Bola Ahmed Tinubu, the Jagaban Borgu. In fact the story has it that, he is one of the strongest and uncompromising foot soldiers of the Asiwaju, one who makes sure that the directions and words of the leader, he holds in high esteem is followed to the last letter.

And for his undoubted and unflinching loyalty, he is well rewarded too. His nickname MC, his famous alias was coined from his given name Musiliu by a much older lady he used to know growing up, who now resides in Canada when he was still in primary school and it stuck and Oluomo is his chieftaincy title given to him by as many as 22 kings from (Ejigbo, Isolo, Oshodi & Igbeba area) led by the Oba (Osolo) of Isolo, Oba Kolawole Kabiru Adelaja Agbabiaka. That loyalty to his boss and in fighting over who should be the leader of their union nearly cost him his life though, during the campaigns at the last elections, as he was nearly annihilated, but for divine providence. According to the folklore, he was stabbed with a poisoned dagger, complications from which he wasn't supposed to have survived from, but someway, somehow, somewhat he did. And from being just a treasurer of the state union then, with his domain or main base in Oshodi, he has now risen to become the overall boss, with all authority in Lagos, the State of Excellence. It didn't come easy though.


To head (become the head honcho) or get to the top of the transport union across the South West states of Nigeria, is not an easy feat or task at all. Most often to get to the post, it's like a war is declared and the likelihood of surviving such war or battle is 50-50, with either the person passing on untimely or that the supporters would die or get maimed as they try to install their own. It is always a free for all, where all sorts of weapons and violent means are employed. Why does the succession, which should normally be smooth and democratic, always attract such unmitigated violence? We have thought to dig to know why and what we have found out is very eye-opening to say the least. Those who are lucky enough to get to the head of the various units and then rise gradually to the top state-wise are like emperors and lords of the manors, with absolute control who wields power like absolute leaders likes od Napoleon or even Adolf. Once you have gotten to some sort of leadership position and have tasted of the goodies that comes with it, you do not ever want to leave. Hence the mad competition and the readiness to take out any perceived competitions or rivals. Just imagine that part of the fun, is that all the famous local musicians would start to sing your praise like you are a demigod! For many in this positions, that alone can make their head swell uncontrollably to such unbelievable levels. Also, the number of people at your beck and call alone, groveling to meet all your demands are totally unbelievable to say the least. In fact, in fact the leaders are like kings in control of some very strong madcaps that can go to any length to please their bosses. The position has been so elevated that you get to rub shoulders with the powers that be as a stakeholder. But the main reason from what we have discovered, is the kind of money that these leaders get to make per day. Yes you read correct, PER DAY. Let's give the correct scenario as it obtains. While MC Oluomo was the lord of manor in charge of Oshodi, in Lagos alone, which has just 52 units under it, he was entitled to [N15,000 Naira per unit] for food alone per day. And it is a must for them to pay the sum. The total for that alone comes to N780,000 Naira per day. That is (seven hundred and eighty thousand Naira) every day! Please understand this very well, that the amount mentioned is just the money set aside for food per day from the units for their boss-MC Oluomo. We reiterate again that the N780,000 is only just for food per day. That alone comes to (N284,700,000 Naira per year), that is Two hundred and eighty four million, seven hundred thousand Naira. Plus or minus that comes to at least N200m Naira per year.

This doesn't include the money for other things, like recharge cards etc. We hear that if you go as a visitor to see the boss, another large amount would be contributed immediately tagged visitor's entertainment money. From what we hear, the large part of the N780,000 goes to MC's 3 wives, who gets between N150,000 to N200,000 each or more from the daily contributions. Just imagine then how much the wives alone can have in a year, if they were smart enough to save or invest in something meaningful! Now you can all pretty well understand why women in large numbers would swarm or surround these men in these positions! No wonder these men are always swarmed by the Nollywood actresses and others who see them as their automatic teller machines (ATMs). If you now put all things well into proper consideration then, it must mean that MC used to cart home on a daily basis, at least N1.5m Naira. Why would he not be flying ✈ first class or business class anyhow then? N1.5m per day for a year comes to N547,500,000 (Five hundred and fourty seven million, five hundred thousand Naira, that is at least half a billion Naira in just one year.
Hmmmmmm.... Now please juxtapose that amount with what he now gets as the overall state chairman of the union. From our investigations, for just food alone now from all the units in the whole state he gets between N1.5m to N1.8m or even N2m per day. This doesn't include all other money that accrues to him. So if in all, he gets at least between N2.2m & N2.5m and it could be far more than this, it must mean he would cart home at least between N803,000,000 & N912,500,0000 Naira a year. That is near a staggering N1billion Naira a year! This staggering amount doesn't include other monies that comes from patronage of all sorts too. Imagine if it is now an election year, just try to think about how much such a chairman who is seen as a major stakeholder would make then! So in a year, MC Oluomo doesn't make less than a guaranteed N500M and it can get to N1billion Naira a year.

As the state chairman, he has at least 4 years tenure, which can still be renewed too. So in 4 years, plus or minus the dude is guaranteed N2bn to N4bn Naira and it can be far more than that. Na wa ooooooo..... Why then wouldn't he buy wonders-on-wheels or build humongous edifices in numbers as he likes? Why wouldn't the musicians, loads of them at that and others sing his praised to high heavens and he would spray such money like it is nothing? Why wouldn't he be married to 3 wives and can even marry another again if he so wishes? As a Moslem he can marry 4. And with the wives he can still have several girlfriends outside too! Why wouldn't he have his 6 daughters and 3 sons schooling abroad.

Far away from all the troubles in Lagos, where they cannot be touched by any sort of violence that can kill or maim others, who are so unfortunate to be here in harms way? From just being a road transport union executive, moving from a bus boy (bus conductor) to what he is now. The dude who could only finish at Primary 6, Musiliu Akinsanya aka MC Oluomo is now a certified multimillionaire whose cash value and assets can not be less than N5billion Naira and it can even be far much more than that. He now hobnobs with the powers that be, like several Governors in the South West and has even stood shoulder to shoulder with an American state Governor before. And if all we hear is anything to go by, he could even become an honorable Commissioner in charge of a portfolio in Lagos State, sometime in the nearest future! Is that a possibility?

....... Nothing is ever impossible in Nigeria!!!!!


---