Clara Oshiomole

Former President, Olusegun Obasanjo, yesterday, commiserated with Governor Adams Oshiomhole of Edo State over the death of his wife, stressing that God was all knowing as all the affairs of men was in His command.
Speaking to aviation correspondents at the Presidential Wing of the Murtala Muhammed Airport, Ikeja, Lagos Obasanjo who was on his way to Abuja, said that the passage of the wife of Governor Oshiomhole was an irreparable loss to the nation saying in Yoruba language, "Eku ti Iyawo Oshiomhole".
The former President described God as the Supreme Being who is in charge of the affairs of all humanity including the lives and affairs of Nigerians and Nigeria as a nation.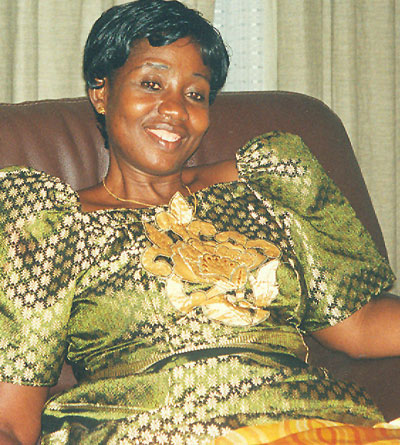 He said: "It is painful the things we go through; the experiences we go through. But it only goes to show that God is in charge of the affairs of all of us, incluing (pointing to reporters), even you and me, all of us."
On whether God was also in charge of the affairs of Nigeria and preparations for the 2011 elections, Obasanjo declined comments saying: "Ah, I do not know, what you mean?
Jonathan condoles
ABUJA—President Goodluck Ebele Jonathan has expressed sadness over the death of Mrs. Clara Oshiomhole, wife of Edo State governor, Adams Aliyu Oshiomhole, who passed on yesterday at age 53.
In a condolence message to Governor Oshiomhole, and the government and people of Edo State yesterday, President Jonathan said Mrs. Oshiomhole's death is a great loss not only to Edo State but the nation in general, given her invaluable contributions to the cause of humanity.
The Special Adviser to the President, Media and Publicity, Mr Ima Niboro, in a statement, said President Jonathan described late Clara Oshiomhole as a heroine of justice and a strong supporter of the rule of law, recalling her rock-solid support for her husband, through his days as a frontline labour activist.
The president noted that Nigerians will not forget in a hurry her contributions towards addressing high mortality rate through her initiative, Health Foundation for
Maternal and Child Care, aimed at providing quality healthcare for pregnant women and the girl-child.
He prayed the Almighty to grant repose to her soul, and give the Oshiomhole family, the people of Edo State and the entire nation the fortitude to bear the irreparable loss.


She'd be sorely missed —Fashola
Governor Babatunde Fashola of Lagos State on Wednesday expressed his heartfelt condolence to Governor Adams Oshiomhole of Edo state over the passage of his wife, Mrs Clara Oshiomhole saying "she would be sorely missed by all."
Governor Fashola made this known in his condolence letter, said that it was a painful experience to lose a soul mate, a wife and a confidant in any circumstance, particularly when her love, support and advice are required to continue to implement policies and programmes aimed at returning Edo State into its enviable heights.
He added: "She would be sorely missed as a confidant, comforter and a mother who has steadfastly kept the home front going throughout the decades of your engagements."
His words "A true heroine of the struggle to enthrone genuine democratic governance in Edo State, her passage at this time has a devastating impact in more ways than one. As the First Lady of Edo State, she has done a lot to positively touch the lives of many, especially women and children within the last two years".
Fashola noted that though the suddenness of the physical separation could be painful, Governor Oshiomhole should take solace in the fact that his wife lived a fulfilled life and impacted positively on her community in numerous ways, adding : "Her public advocacy regarding the right policies to fight cancer is particularly commendable".
The governor prayed that God grant the soul of Mrs Oshiomhole sweet repose and endow the husband, the family and the people of Edo State she left behind with the fortitude to bear the irreparable loss and offered his sincere condolences on behalf of the First family, the Government and people of Lagos State.

She was a solid pillar – Atiku
ABUJA—Former Vice President and Peoples Democratic Party, PDP, presidential aspirant, Atiku Abubakar, has described the death of the wife of Edo State Governor as a big loss, not only to the family but to the state and entire country.
Atiku in a statement issued in Abuja yesterday, said: "We cannot forget in a hurry how this woman stood as a solid pillar behind her husband, the Governor, through his days as a frontline labour activist and through the struggle to reclaim his mandate freely given to him by the good people of Edo State."
He prayed that God will give the governor; the children and the entire people of Edo state the fortitude to bearing the irreparable loss.


A great loss – NLC
NIGERIA Labour Congress, NLC, has described the death of Edo State First Lady, Mrs Clara Oshiomhole, as a great loss, saying unlike most First Ladies, Mrs. Oshiomhole was unobtrusive and saw her role essentially as complementing that of the Comrade Governor.
In a statement by NLC President, Comrade Abdulwaheed Omar, entitled, The Passing On Of Mrs. Clara Oshiomhole; A Great Loss, Comrade Omar said: "One of the things that marked her out as her complete identification with her husband, which she showed by her attendance of NLC functions like the May Day when Comrade Adams was the President of the NLC."
Meanwhile, Trade Union Congress of Nigeria, TUC, and the Petroleum and Natural Gas Senior Staff Association of Nigeria, PENGASSAN, have expressed shock over the death of the First Lady of Edo State, saying she was a great mother and one of the silent nation builders of modern day Nigeria.
In separate statements, TUC and PENGASSAN, called for her immotalisation, saying, "Mrs Clara was a solid pillar behind her husband. Through his days as a front line labour activist and through the struggle to reclaim his mandate freely given to him by the good people of Edo State, she stood by him and the family."
TRADE Union
Congress of Nigeria, TUC and the Petroleum and Natural Gas Senior Staff Association of Nigeria, PENGASSAN, have expressed shock over the death of the First lady of Edo State, Mrs. Clara Oshiomhole, saying she was a great mother and one of the silent nation builder of modern day Nigeria.
In a separate statements, TUC and PENGASSAN, called for her immotalisation, saying " Mrs Clara was a solid pillar behind her husband, through his days as a front line labour activist and through the struggle to reclaim his mandate freely given to him by the good people of Edo State she stood by him and the family".
According to the statement: "It is with profound shock but with total submission to the will of The Almighty that the Nigeria Labour Congress (NLC) received the tragic news of the passing away of Mrs. Clara Oshiomhole, the First Lady of Edo State and wife of the Edo State, State Governor and immediate past president of Congress, Comrade Adam Oshiomhole. Unlike most First Ladies, Mrs. Oshiomhole was unobtrusive and saw her role essentially as complementing that of the Comrade Governor.
One of the things that marked her out was her complete identification with her husband which she showed by her attendance of NLC functions like the May Day when Comrade Adams was the President of the NLC."
"It is an open secret that but for her dedication and making the home front peaceful, the Comrade Governor would not have succeeded so well in his service to the public. She was also a very successful mother going by the good manners and academic excellence of her children. Her death is a major loss to her family, Edo State, the Labour Movement and the country in general.
Her motherly role will be greatly missed and we pray the Almighty to grant Comrade Adams and his family the fortitude to bear this irreplaceable loss.

Her legacies live on -Mimiko
Ondo State Governor, Dr. Olusegun Mimiko, yesterday, expressed shock over the death of the wife of his fellow Comrade Governor, Mr. Adams Oshiomhole of Edo State.
Mimiko, who on hearing of the passage of the woman, on Tuesday evening, had placed a personal call to his Edo State counterpart. In a release issued on his behalf by his Chief Press Secretary, Mr. Kolawole Olabisi in Akure, he described the death of Mrs. Clara Oshiomhole, who he described as "our wife", as a sad loss and condoled the Governor, the entire Oshiomhole family and the people of Edo State.
He said: "But we are consoled by the fact that the ideals for which she laboured for alongside her husband and other patriots manifested in her life time and will live on as an enduring legacy in her memory."
Our hearts go out to our brother and colleague, Comrade Governor Adams Oshiomhole at these dark hours following the demise of his darling wife and soul mate, Mrs. Clara Oshiomhole. We also commiserate with the entire people of Edo State, the Oshiomhole family and the children of the late Amason who stood by her husband in his struggle first for the emancipation and betterment of the nation's workforce and later for the liberation of the people of Edo State from those who foisted themselves on the people by sheer brigandage.
In all these times, which were no doubt, turbulent and full of anxieties, the late Amason stood by her husband like the biblical rock of Gibraltar. It is sad that she had to bow to the cold hands of death
now.
" On behalf of the entire good people of Ondo State and my family, I mourn with my brother Comrade Governor at this sad time and I pray that God will give him the strength to continue to forge on with his
fabled vigour as he takes Edo State to greater heights. Please accept our heartfelt sympathy," Mimiko stated.
Painful, shocking, says Oyinlola
Osogbo—Former Osun State Governor, Prince Olagunsoye Oyinlola has condoled with Edo State Governor, Comrade Adams Oshiomhole, on the death of his wife, Clara.
In a condolence letter issued yesterday in Osogbo by his Chief Press Secretary, Mr. Lasisi Olagunju, Prince Oyinlola said he received with shock the news of the demise of Mrs Oshiomhole during at the age of 54.
He said: "Her death was as painful as it was shocking given her relatively young age. Her strength of character and her invaluable contributions to your successful transformation from a labour activist to a politician."
"No doubt, the people of Edo state have lost a mother who touched several lives through her pet project, the Health Foundation for Maternal and Child Care, dedicated to providing quality health care to pregnant women and the girl child.
"While I pray the Almighty God to give you and the children she left behind the fortitude to bear this great and irreplaceable loss, it is also my prayer that He will grant her soul eternal rest," Oyinlola said.
… CPP too
ABUJA—Citizens Popular Party, CPP, has commiserated with Comrade Governor, Adams Oshiomhole of Edo State over the loss of his wife, Mrs. Clara who died Tuesday night at an Abuja hospital.
National Chairman of CPP, Barrister Maxi Okwu in a signed condolence letter said, the demise of Mrs. Oshiomhole was a big loss not only to Edo State but also to the entire country.
He said, "we wish to sympathise with the Comrade Governor Adams Oshiomhole on the transition of his dear wife. Our heart and prayers go out to him and his family, the people and government of Edo state.
"We pray that the Almighty would grant them the fortitude to bear this irreparable loss. The news of the resignation of Ma Ayoka Adebayo REC of Ondo state who was behind the electoral fiasco in Ekiti state last year is a most welcome development, though belated.
"As the cliché goes better late than never. In more decent societies Ma Adebayo would have long thrown in the towel and be in the hot embrace of the law. There are others like her still in the system viz; one Bulama Enugu REC that did not conduct any election in Enugu state in 2007, and the Edo state REC seriously indicted by the Court of Appeal for doctoring figures, in the Oshiomole/Osunbor case.
"Let the Ma Adebayo saga be a warning to all that someday we shall be held accountable for our deeds/misdeeds in public office."
---
Posted: at 8-12-2010 09:07 AM (11 years ago) | Newbie