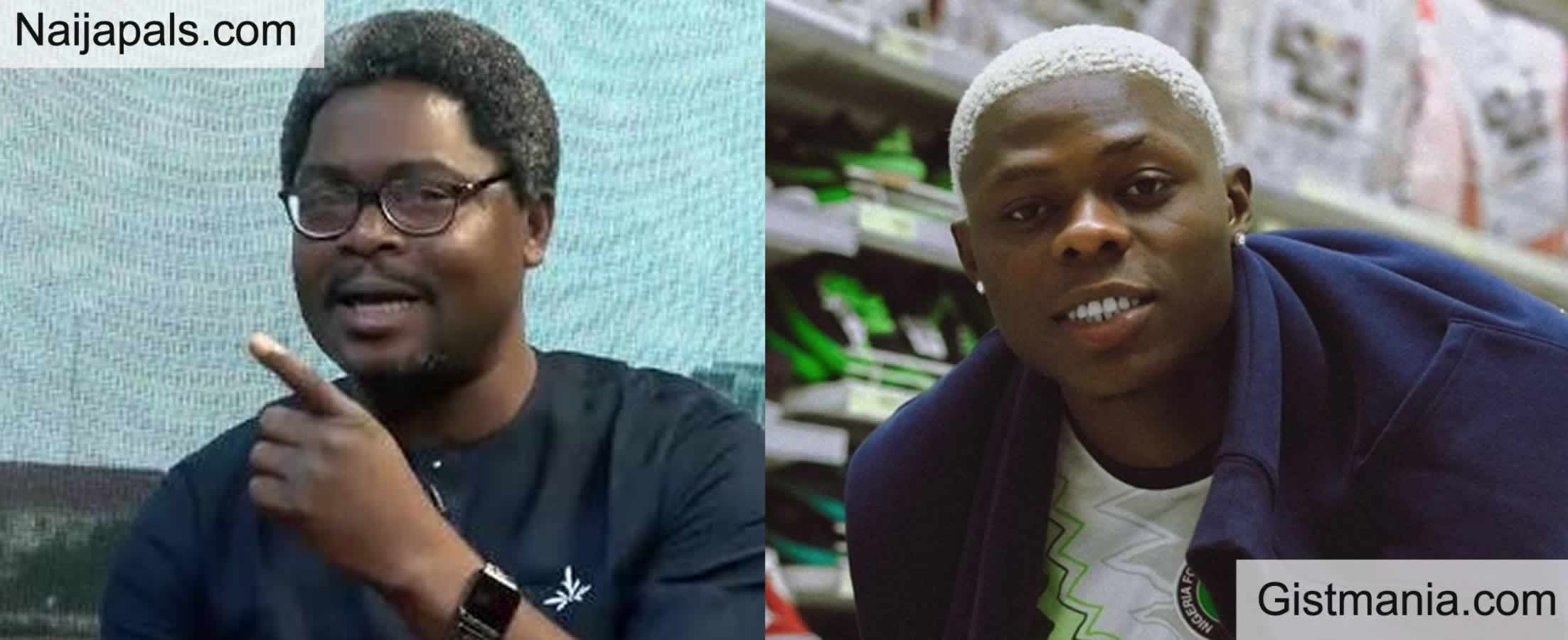 Former media aide to ex-Governor Ayodele Fayose, Lere Olayinka, has criticized the late singer Mohbad's mother for her behaviour following the singer's death.

On his Facebook page, Olayinka revealed how Mohbad's mother had abandoned the singer and his sister for 15 years, only to return to his life when he became successful.

"She is now residing in his apartment in Lekki, Lagos, and receiving condolences for his death," Olayinka wrote, blaming Mohbad's mother for his death and citing her absence during his formative years as a contributing factor to his troubles.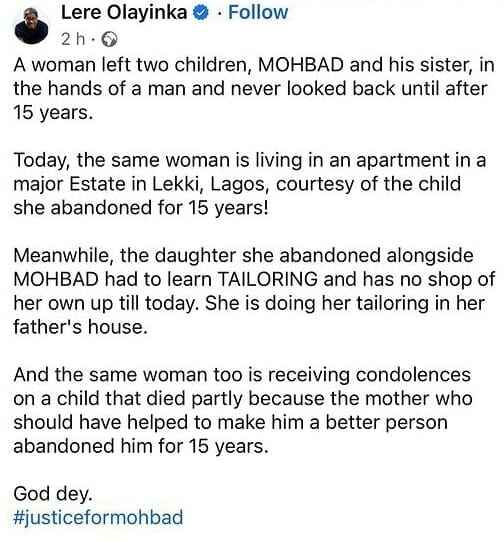 Many individuals agreed with Olayinka's sentiment, suggesting that both parents had failed Mohbad.

The situation has ignited discussions about parental responsibility and the impact of abandonment on a child's life.

Following Mohbad's tragic death, his mother has hinted at conflicts with Naira Marley as a source of anxiety and stress for her son.

Conversely, Mohbad's father dismissed these claims, suggesting that his son might have died due to an injection administered by an auxiliary nurse.

This complex and tragic family situation has left many questioning the circumstances surrounding Mohbad's death, adding a layer of uncertainty to an already heartbreaking story.

Many agreed with Olayinka as they noted how the singer's mother failed him as well as the father.

One Emperor Bolojay wrote, "Where is the lie? Mama, you lose guard".



Quote

One Zevigins wrote, "With the view overall, it all looks like both Mother and Father failed him. I do hope parents will learn from this, Mohbad's spirit is very strong so I believe he will get justice at this point EVERYONE is a suspect!"

One Chita Oxe wrote, "What a wicked woman tufiakwa. Leaving your own son u carried for 9 months".

One Oba Ksolo wrote, "Another Angle".

One Ladyque wrote, "This is deep. Please if you must leave, leave with your kids".

One Omalichawa wrote, "Oh God some mother's no dey try oo. I know his father's action is not justified but maybe that's why the father is behaving that way".

One The Belle Tiwa wrote, "The young boy said in one of his songs that 10 years him no see mama. We all thought his mom was late until Sunday when she came with a video claiming to be her biological mother. Shior! Where has she been? Iya Bournvita".



Following the demise of her son, Mohbad's mother granted an interview where she voiced her suspicions that her son's death was not a natural one but rather a tragedy shrouded in mystery.

In an emotionally charged interview, Mohbad's mother debunked any idea that her son's death was due to natural causes, strongly suggesting that there was something much more sinister at play.

Her heartbreaking statement insinuated that her son had been living in constant anxiety and stress due to ongoing conflicts with Naira Marley.

However, his father, debunked claims that something sinister had happened to his son, hinting at him probably dying due to an injection given to him by an auxiliary nurse.

He lost the admiration of many when he defended Naira Marley for bullying his son, stating that Marley was only trying to correct him, but his son didn't listen to him.

The video left many questioning if he is the biological father of the late singer as they expressed disgust at his revelation.
Posted: at 20-09-2023 09:16 PM (2 months ago) | Addicted Hero