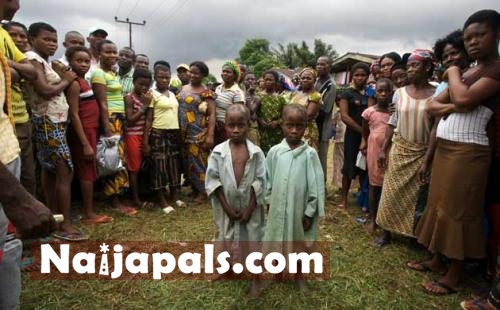 A documentary was aired yesterday on one of the UK's popular tv stations on saving Nigeria's witch children.
In some parts of Nigeria, where evangelical religious fervour is combined with a belief in sorcery and black magic, many thousands of children are being blamed for catastrophes, death and famine - and branded witches by powerful pastors. These children are then abandoned, tortured, starved and murdered.
it started with a 'witch doctor' in Akwa Ibom state, who claimed that he as killed 110 witches. he collects 400,000 naira from a parent to cure a child of witch craft. if payments could not be completed after treatment, the child is held in 'custody'.



the documentary showed a child who made to sit on fire by her father to extract a confession. a nail was driven into a girl's head. a boy was bitten to the extent the upper bone of his arm came out of his skin. acis was poured on one and some were abdoned on the street. the list goes on............ this are ctually the lucky ones who live to tell the story anjd bear the scars . many have been burnt or buried alive.



a man(forgotten his name) was actually kind enough to house those children and feed them with the help of NGO's. he actually made an attempt to reconcile a child with her family but the extended family members said that if the girl made one step futher into the compound, they was going to matchet her on the notion that she was going to poison their food]s by barely looking at them. one of them was actually sharpening the matchet.



one of the residents argued that the reason why this kind of treatment are metted on 'witch chidren' is because of a film produced by one pentecostal churches on witch children tittled 'end of the wicked'
pastors tend to cast out invincible witches and wizards in all deliverances. people are influenced into believing that most problems in thier lives are caused by witches and wizards when some of them could be solved pratically.



A pastor interviewed wrote in one of her book that one of the symtoms of identifying a child witch is if the child cries everytime in the night and runs a fever.



the witch children marched to the govt house in akwa ibom requesting that the chid protection act should be made into law. before they were allowed through the gate, they had to roast in the sun for about 4 hours.
the governor eventually granted them audience and the hall was heavily armed by MOPOLS. i just had to wonder, mopols for children aged 2-15? however, the first lady was quite sympathetic and the governor granted them theirr requests by making killing of child witches a punishable crime in akwa ibom state. tough the act as been enforced, rearch showed that noting as changed.

wot do you guyz think?
are there truly witches?

if there are,must a child be physically deformed or psycological abused all bcos we want to extact confessions?

christians, what happened to the power of prayer and why do we accept stones instead of bread? Do we think the 'ONE' whom we claimed to worship will accept us into paradise with what we've done to those children. and by the way what right's do we have?

wen do we stop blaming our misfortunes on witches and wizard and take responsibility. EVIL DOES NOT BEFALL US UNLESS WE CALL FOR IT!

when will this mania stop and could african's witch children truly be saved?




the documentay can be watched on www.channel4.com/.../saving_africas_wictch_children. You need Windows Media Player 11 to view it. OR http://www.steppingstonesnigeria.org/