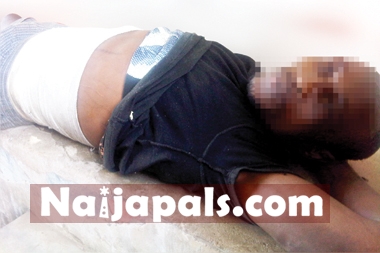 A suspected robber, who was trying to escape being caught, jumped from a three-storey building and broke his spinal cord.

But the suspect, Kennytobor Timondi, told PUNCH METRO on Monday that he believed that somebody pushed him as he perched on the window of the house he robbed, thinking whether he should give himself up or not.

Timondi, who is being detained by the police alongside his two suspected accomplices; Paul Meluji and James Iniobong, said he had received minor treatment from the police and not extensive medical treatment that his situation required.

PUNCH METRO gathered that the trio had been robbing the house of a white man in Apapa, Lagos when they were caught.

According to the Deputy Spokesman of the state Police Command, Mrs. Patricia Amadin, the men specialised in robbing white men in Apapa.

She said nemesis caught up with Timondi and the rest of his gang after the gang attempted to rob a white man at North Avenue, Flour Mill Estate with some dangerous weapons.

Amadin said that Timodi was brought to the house by Iniobong and Meluji, who were incidentally driver and steward of the white man respectively.

She explained that the trio attempted to steal some items including laptop, handsets and money. She added that they were interrupted by the sudden appearance of the white man and his wife.

"After sighting the man and his wife, the men took to their heels and one of the suspects, while attempting to escape, jumped from the three-storey building and broke his spinal cord. Through the suspect that broke his spinal cord, other members of the gang were arrested," she noted.

But both Meluji and Iniebong denied any knowledge or participating in the robbery. They added that they had no cause to set their white boss up.

Amading said that the suspects would be charged to court where they could defend themselves.

In another development, the police in Lagos State have arrested four young men for allegedly belonging to Eiye and Black Axe cult groups and also disturbing public peace.

Amadin said that the suspects; Usifo Emmanuel, Kelving Ayayo, Tony Ekpo and Amaechi Obidike were arrested in Apapa area on Saturday after a clash between them in a club house.

According to Amadin, there was an intial clash between the rival groups on Thursady, where dangerous weapons were freely used. She said a reprisal clash broke out on Saturday and the suspects were arrested in one Pop Club, Apapa.

She said the police were able to establish that the suspects belonged to Aiye and Black Axe confraternities, adding that no death was recorded in the fracas.

She said that the police were on the trail of other members of the cult groups involved in the fight, "they will be charge to court as soon as investigations were concluded," she said.

The young men however denied involvements in the clashes and membership of the cult groups.

---