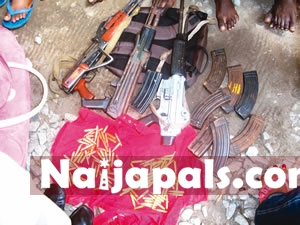 THE long arms of the law caught up with a 20-year- old female suspected armed robber, Mariam Onwuka, following her arrest and parade before newsmen by the police in Lagos for alleged armed robbery and arms possession.
Miss Onwuka , a secondary school pupil, was said to have been arrested on March 23, 2011, at Maza-maza area of the state when she allegedly attempted to transport a bag loaded with ammunition to Delta State.
Police officers from the State Anti-robbery Squad (SARS) quizzed Miss Onwuka and she was said to have confessed to the crime stating that her lover, one Charles a notorious armed robber at the Tin Can Island Port Apapa, Lagos, gave her the bag and asked her to transport it to Koko in Delta State where a gang of armed robbers were planning to strike.
Lagos State Police command's spokesperson, Samuel Jinadu said "the police recovered two AK47 riffle, one K2 riffle and 134 rounds of live ammunition and magazines from Mariam Onwuka's bag".
Following miss Onwuka's confession, the police also arrested three men suspected to be members of Mr Charles' gang. They are Moniru Ilegino 39, Godwin Adams 39, and Chima Okoro, 30. Mr Charles the leader of the gang is said to be on the run.
Miss Onwuka said her lover had threatened to kill her if she refused to take the luggage to their planned destination.
In an encounter with the Sunday Tribune during the week in Lagos, she said: "I am a secondary school leaver, I finished from the Newland Secondary school, Ajegunle. I met Charles at my sister's beer parlour at Tin Can Island sometime last year. He used to come to drink beer and when we became very close, I detected that he was into armed robbery. I advised him to quit but he threatened to kill me if I should tell anybody that he was into armed robbery.
"I love Charles and I thought I could change him. Despite the fact that I am not the only woman in his life, I still love him. It is not true that I am going out because of his wealth. He hardly gave me more than N5,000. Charles does not have a house; we always spend nice time together at the Premier Logistic Hotel."
How she was caught
"I wanted to go to Delta State that day to bring my sick mum to Lagos, and Charles told me he was going to Delta too. He was the one who packed the bag and he told me not to open it until I get to koko in Delta State, that he would join me soon in Delta.
Some of the guns found in Miss Onwuka's bag
"That morning he arranged for an Okada operator (commercial motorcyclist) to take me to the motor park at Maza-maza. After the okada man had dropped me, he (okada man) went to the transporters and told them something which I don't know. That was how the transporters came to me and started searching my bag. They found the guns and they called the police. I don't know anything about the guns. Charles threatened to kill me if I should reveal his criminal activities. That was why I refused to tell anybody about him. I regret everything now."Miss Onwuka stated.
The other suspects also confessed to their past robbery activities but added that they have repented.
"I stole with Charles in the past, but when I saw that there is no gain in armed robbery, I decided to quit last year" Said Mr. Ilegino,
Mr. Jinadu said the suspects will be arraigned in court soon.
We are investigating the case and the suspects will be charged to court soon.The police said they are on the trail of the leader of the gang, one Charles who is at large and he will be arrested soon.
"Members of the public are advised to be security conscious and to provide the police with useful information about criminals in their midst", the police spokesperson concluded.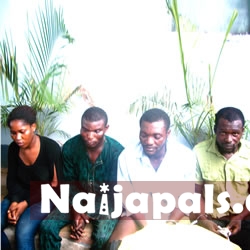 ---
Posted: at 19-04-2011 03:33 AM (10 years ago) | Gistmaniac