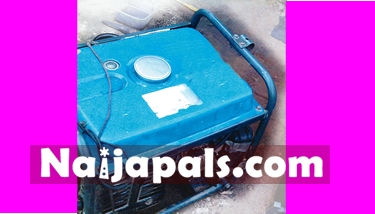 Tragedy struck in the Akaba community in Yenagoa, Bayelsa State, on Saturday when a middle-aged man inhaled generator fumes barely three days after moving into his new apartment.
The News Agency of Nigeria reports that the man, whose name was given as Funkebi Moses, was a native of Angalabiri community in the Sagbama Local Government Area of the state.
An eyewitness told NAN that Moses was choked to death after he had inhaled carbon monoxide from the generator he had put on the previous night in his kitchen.
The witness said the body was discovered after a neighbour had gone to Moses' apartment to collect a hammer he lent the deceased.
On getting to his apartment, it was learnt that after several knocks on the door, there was no response, and the generator was on. This prompted neighbours to peep through the window only to see Moses' lifeless body lying on the bed.
When the door was forced open, the generator was still running in the kitchen, while all the windows and door were locked.
Moses' landlord, Mr. Nelson Yongoi, confirmed the incident. It was learnt that Moses'remains had been deposited at the Federal Medical Centre mortuary in Yenagoa.
When contacted, the command's Police Public Relations Officer, Mr. Eguaveon Emokpai, told NAN that he had not received any formal report on the incident.
The death of Moses brings to three the number of persons who have been killed by generator fumes in Yenagoa this year.

---