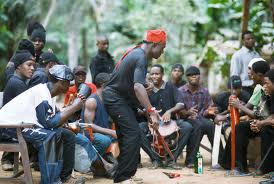 Kano State Governor, Rabiu Musa Kwankwaso has signed into law a bill for the establishment of Neighbourhood Watch, otherwise known as Vigilante Groups in the state.

The law, which consist of 15 sections, is to provide for the setting up, registration and monitoring of Vigilante groups in the state.

State Commissioner of Justice, Barrister Maliki Kuliya told reporters in Kano Thursday that the law is essential because they are voluntary organizations who assist the police and other governmental agencies in combating crime.

He pointed that there is the need to make sure that only people of impeccable character are allowed membership of the groups.

Barrister Maliki Kuliya added that it has become necessary to regulate the activities of Vigilante groups in view of the significance of their service to the society.

The commissioner also pointed out that they have a crucial role to play, particularly at this critical period in the state.

Meanwhile, Kano state government has approved the release of N50 million to the state urban planning agency, KNUPDA for laying of interlock tiles for some roads in the Kano metropolis.

The roads are Audu Bako way, Ahmadu Bello way, Alu Avenue and Race Course road. Others are Bompai road, Gwarzo road, Airport road and Emirs' Palace road.

The state Commissioner for Project Monitoring, Alhaji Aminu Abdussalam who told reporters on Thursday that the move is part of the Kwankwaso administration's routine maintenance and beautification of metropolitan roads in the state.